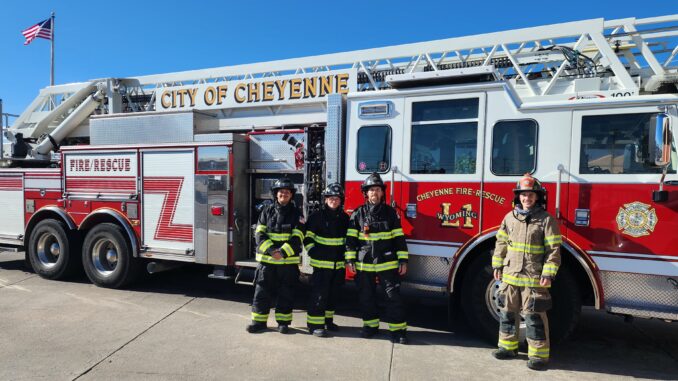 Cheyenne Fire and Rescue personnel will now sport a slightly new look, with new personal protective equipment arriving thanks to 5th Penny sales tax funds.
The new personal protective equipment, or PPE, will allow firefighters more comfort, flexibility, and visibility all while reducing the amount of heat stress endured while working. The gear is state of the art and followed a year-long selection process by CFR.
"This gear purchase has been in the planning process for several years," Deputy Chief Andrew Dykshorn said. "We recognized that it was important to engage our personnel throughout the process and ensure we are getting what they need for their comfort and safety and to be able to provide the excellent service that is expected from our organization. I want to personally thank Lt. Ryan Anderson and the PPE Committee for their due diligence in managing this large project."
Cheyenne residents will notice the new gear is black with reflective markings – a difference from the old tan uniforms.
CFR established a PPE Committee to start the process of selection and purchase. The committee completed an exhaustive gear evaluation that involved hours of thorough research, comparative tests, and controlled fire training tests that all took about a year to complete. After the tests were finished, the committee met and selected on a manufacturer based on the data collected.
The final $330,000 purchase was approved this year with support from Chief John Kopper and Cheyenne City Council. CFR has taken delivery of 67 sets of new gear and will replace the old gear as it needs to be retired.
"The recently purchased Globe Turnout gear is a vast improvement over our previous gear. This new PPE is lightweight and more ergonomic, therefore reducing the workload and heat stress on our firefighters," said Lt. Ryan Anderson. "These key features vastly improve a firefighter's capabilities, therefore making us and the community we serve safer. Chief Kopper, DC Dykshorn, Mayor Collins, and Cheyenne City Council were all instrumental in this project and we can't thank them enough."
CFR's previous PPE is 8 years old and will reach the end of its life in about two years. However, CFR will still be able to use the old gear for recruit training academies in the future.