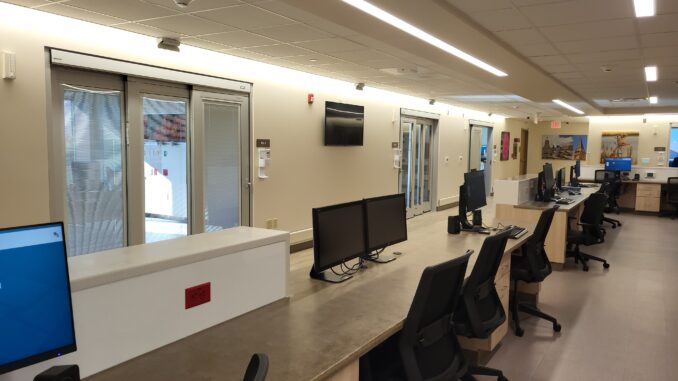 Cheyenne Regional Medical Center is hosting an open house for the public to tour its new Intensive Care Unit (ICU) on November 2 from 3 to 5 p.m. The new ICU is on the hospital's fifth floor in the former location of the Mother/Baby and Labor/Delivery Units.
CRMC Chief Operating Officer Robin Roling detailed what the new ICU will feature.
Vickie Scearce is the Clinical Director of the ICU and Dialysis at CRMC. She explained there's always room to improve their facilities.
Scott Fox is the Executive Director of the CRMC Foundation. He said their role is to help support new projects like the new ICU and mother/baby and labor/delivery units at CRMC.
"We are so pleased to be able to share this new space and its many advancements with our community," said Tim Thornell, CRMC's president and chief executive officer. "CRMC providers and employees from throughout the hospital have been involved in the planning and oversight, and I want to thank each of them for their thoughtful input to ensure the unit meets the needs of our patients and community for years to come."
The renovation was originally scheduled to start three years ago as part of CRMC's 10-year master facility plan but had to be postponed due to the pandemic. CRMC's current ICU was constructed in the mid-1990s.
The new ICU is about 17,000 square feet, almost 2 ½ times bigger that the current ICU. It also features several enhancements, including 17 single-occupancy rooms with full bathrooms. The current ICU has 15 rooms, with three of those being semi-private.
Eight rooms have also been designed with air flow exchanges required to care for patients with infectious diseases, and two rooms have specialized equipment to help ensure safe care for bariatric patients.
Another improvement is that the new family waiting area is 1 ½ times larger than the current one. There is also a family conference room, a staff break room and a larger storage area for housing ICU equipment.
"The entire area also has paintings and imagery depicting nature scenes, to provide a more comforting environment for patients, families and our staff," said Cheryl Crumpton, CRMC's specialty services administrator.
The new ICU is scheduled to open for patient care in mid-November.
"The new ICU will match the amazing patient care that our team provides to our community every day," said Victoria Scearce, CRMC's ICU manager.
"Healthcare and medicine have advanced significantly in the past 30 years," Crumpton said. "It is a privilege to be able to offer our community an ICU specially designed to help our providers and staff provide state-of-the art care."
Light refreshments will be provided during the open house, and no RSVP is required. The public can access the new ICU via the elevator in CRMC's main lobby.