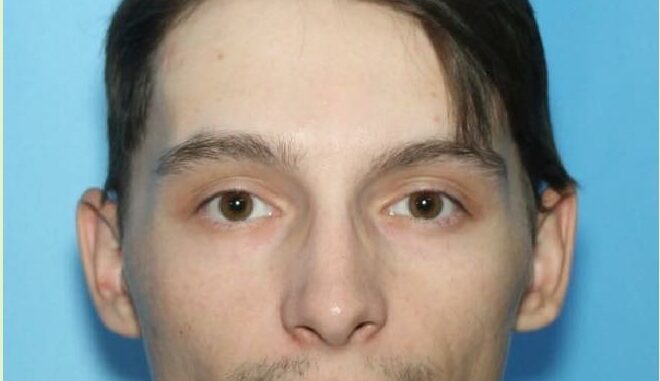 Justa fter 4:00 Thursday afternoon, the Pine Bluffs Police Department responded to a report of a Domestic Violence incident at 515 Blair Street. The suspect, identified as 26-year-old Tyler Pohlman, allegedly assaulted his grandmother with a chair and discharged a shotgun within the home before fleeing the scene.
Upon arriving at the scene, Pine Bluffs Officers and a Laramie County Deputy encountered the suspect, who then fled back into the residence. Shortly thereafter, a loud bang was heard, and a window was observed broken from within the home. Law enforcement attempted to contain the suspect, but he managed to escape through the rear exit on foot.
Coordinated efforts were quickly mobilized to locate and apprehend the suspect. Responding agencies included the Laramie County Sheriff's Office, Laramie County Combined Communications Center, Cheyenne Police Department, City of Cheyenne and Laramie County SWAT Team, Wyoming Game and Fish, U.S Marshals Service and Wyoming Highway Patrol. Pine Bluffs EMS, AMR, and Fire District 5 were also on standby to provide medical assistance and emergency services.
After a thorough search, law enforcement successfully located and apprehended the suspect. It is important to note that the suspect is considered innocent until proven guilty. The Pine Bluffs Police Department would like to express gratitude to all first responders for their swift and effective actions in containing the situation, arresting the suspect, and securing the community.
During the incident, precautionary measures were taken to ensure the safety of the Pine Bluffs residents, as well as the students of Pine Bluffs Elementary School and Pine Bluffs Middle/High School. The schools were placed on lockdown, and the cooperation and communication of Laramie County School District 2 were instrumental in ensuring the safety of the students and staff.
The Pine Bluffs Police Department extends its appreciation to the community for their trust and cooperation during this challenging situation. Residents were advised to remain indoors for their safety, which greatly facilitated law enforcement's efforts in locating the suspect.