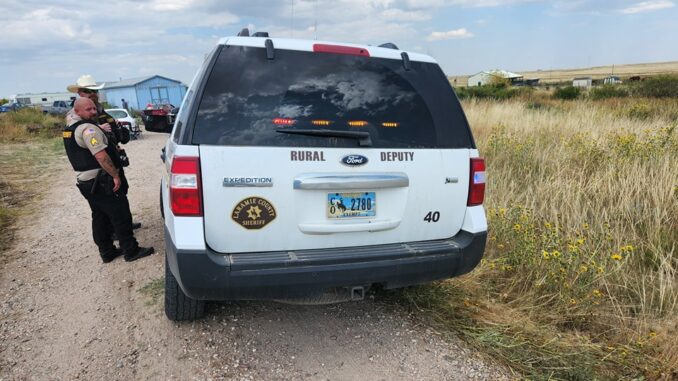 The Laramie County Sheriff's Office is identifying the person who was shot and killed earlier this week in Burns as 43-year-old Ashley Bartel.
Around 1:23 Wednesday afternoon, deputies were dispatched to 4572 Teal Lane in response to a report of a person who had been shot. Upon arrival, deputies discovered Bartel deceased due to an apparent gunshot wound.
Preliminary investigation revealed that the suspect had fled the scene in a red Mazda car. Immediate efforts were initiated to locate and apprehend the suspect. Law enforcement personnel swiftly mobilized to secure the area and initiate a search for the suspect vehicle.
Shortly after the incident took place, Pine Bluffs Police Chief Austin Smith spotted a red car matching the suspect vehicle's description on I-80 near the town of Pine Bluffs. Chief Smith, in coordination with the Laramie County Sheriff's Office, initiated and concluded the stop at County Road 159 and 210.
Upon bringing the vehicle to a stop, law enforcement identified the driver as Tyler Hill, who was the sole occupant of the car. Tyler Hill was taken into custody at the scene without further incident. Subsequently, law enforcement personnel conducted a thorough investigation of the scene, spanning from the Antelope Truck Stop to Exit 1 on Interstate 80 in Nebraska.
The Sheriff's Office continues to work diligently on this ongoing investigation. Further details will be released as they become available. Anyone with information pertinent to this case is encouraged to contact the Laramie County Sheriff's Office.