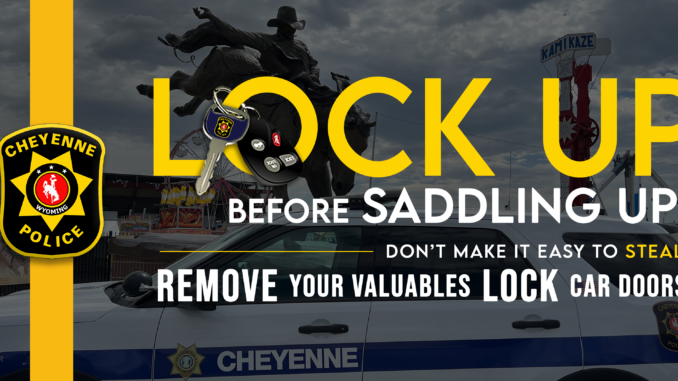 With an uptick in preventable vehicle burglaries, the Cheyenne Police Department is reminding residents and visitors coming to town for Cheyenne Frontier Days to "lock up before saddling up" when it comes to leaving valuables – especially firearms – in the car.
From January 2023 through June 2023, officers have responded to 233 vehicle burglaries – almost a 50% increase compared to 156 burglaries over the same period in 2022. Additionally, the CPD has received 67 reports of stolen firearms this year compared to 37 last year – an 81% increase.
Force is rarely used when a vehicle is broken into, many recent incidents have occurred in hotel parking lots where vehicles were left unlocked, and firearms were easily accessible. This problem has a simple solution; do not use your car as a gun safe, and make sure that your firearm is always secured and never left unattended.
As an extra safety precaution, free gun locks are available at the Public Safety Center front desk. Citizens can stop by and pick one up anytime Monday through Friday from 9:00 a.m. – 4:00 p.m.
"It is important for citizens to remain vigilant, especially during large events," said Chief Mark Francisco. "These crimes are preventable and often result in suspects engaging in other criminal activity with a stolen vehicle or property."
Officers encourage citizens to report any and all suspicious activity. Please call the Cheyenne Police Department dispatch center with tips at (307) 637-6525.