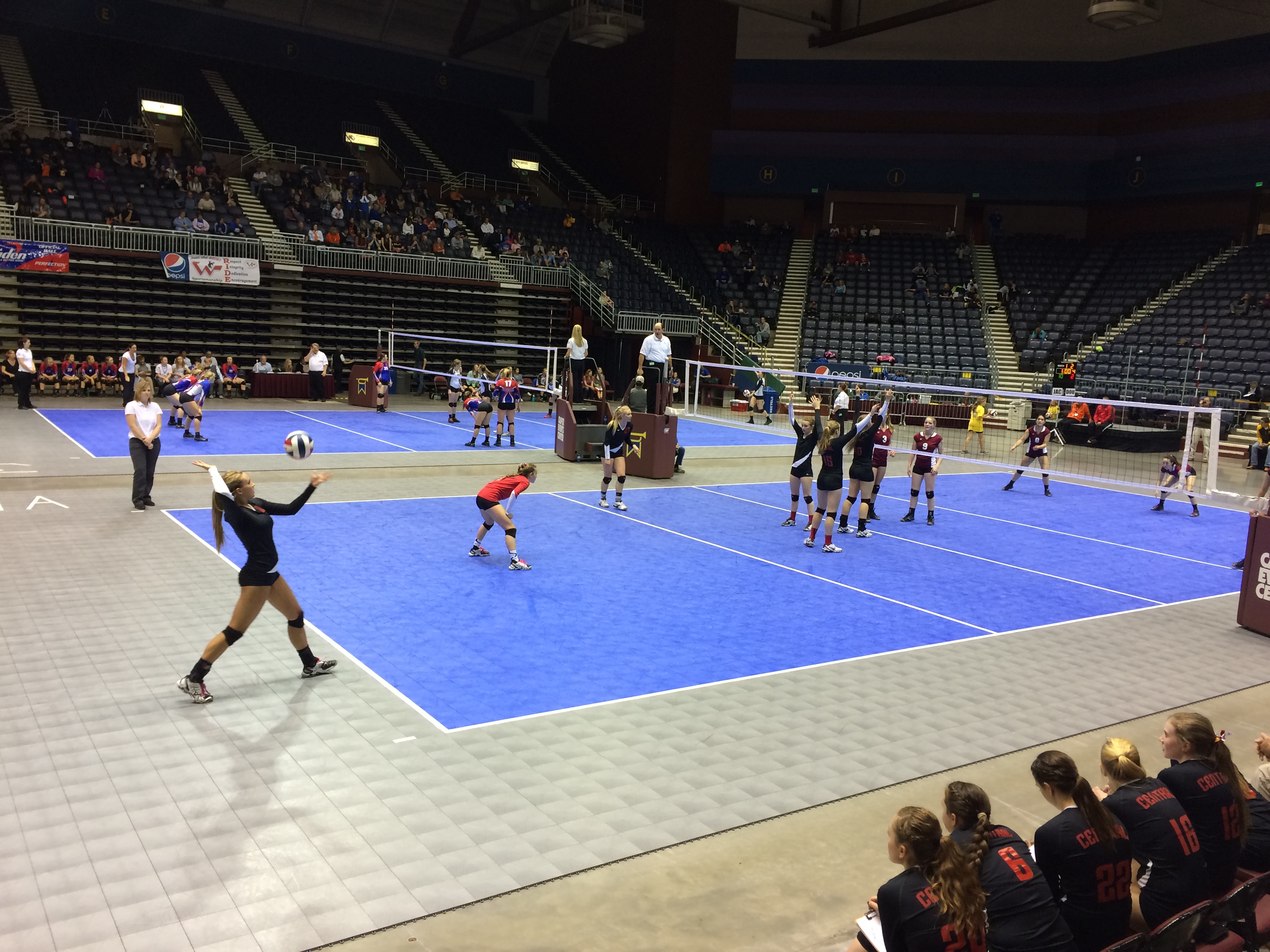 LARAMIE, Wyo. (Sept. 12, 2015) – Despite dropping the opening frame, the University of Wyoming Cowgirl volleyball team rallied for a 3-1 (26-24, 27-25, 25-17, 25-10) victory over Northern Colorado on Saturday night in the UniWyo Sports Complex.
Junior middle blocker Laura Beach notched a match-high 13 kills for the Cowgirls (7-2 overall), who finished with a 2-1 tournament record for the second weekend in a row. In addition to Beach's 13 kills, UW received 11 from junior outside hitter Kayla Slofkiss, nine from senior outside hitter Bridget Shanahan, and seven from redshirt freshman outside hitter Emily Hines. Senior Kayla Henderson added six for Wyoming as well, to go along with her six blocks. Sophomore Lily Austin had a great night defensively for Wyoming. She finished with a season-high 12 digs for her second match of the season in double-digit digs.
For the third time in four matches, junior Courtney Chacon and freshman Cori Aafedt each recorded 20-plus assists for the Cowgirls. Aafedt had a team-leading 24 assists, while Chacon contributed with 21. They each also had six digs during the match with UNC. Chacon has now led UW in assists in five of its nine matches this season, as Aafedt has led the team three times.
Senior Allison Waldvogel finished with her fourth match of the season with more than 20 digs. Tonight against the Bears, Waldvogel had 23 digs. Reed Copeland finished with her second-career match in double digits blocks. She had ten total tonight in addition to four kills. Beach added five blocks for the Cowgirls as freshman Mattison DeGarmo notched three.
Both teams exchanged 6-0 runs in the second set, but it was ultimately the Cowgirls who pulled out late points to ensure a 25-27 victory. A kill from Beach, assisted from Chacon gave UW the final set point.  Wyoming got things rolling in the third set, as Shanahan had four kills. Slofkiss added three kills for UW, as senior Allison Waldvogel had 10 digs in the third set. Behind stellar serving, the fourth and final set ended in a 10-0 run for the Cowgirls as they were able to secure their ninth victory of the season. Chacon contributed with two-straight service aces during that stretch before an attacking error from UNC sealed Wyoming's victory.
Wyoming will host the Wyoming Invite for the final nonconference tournament of the season next weekend. UW will welcome Idaho State, Pepperdine and McNeese State on Sept. 17-19.