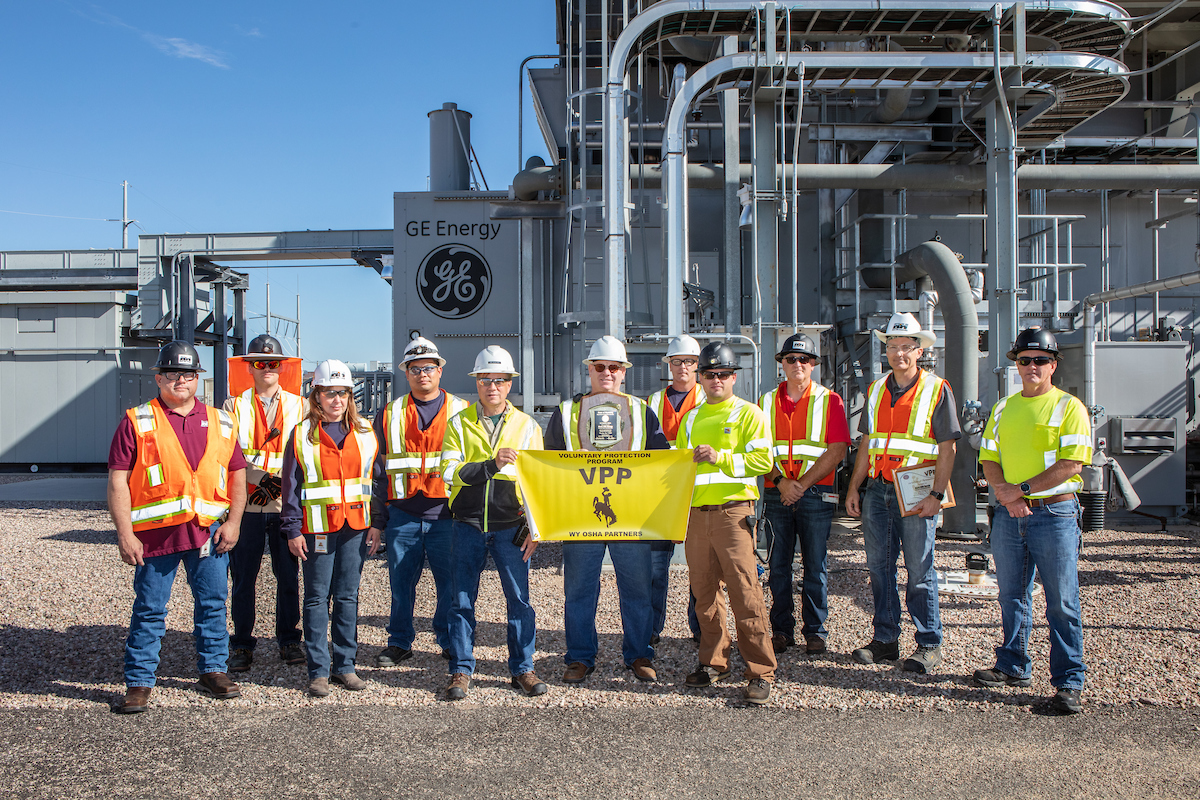 BHE 8-27-21
Black Hills Energy is announcing that the Cheyenne Prairie Generating Station (CPGS) is the recipient of the "Cowboy Star" Voluntary Protection Program (VPP) safety award. The achievement is the most prestigious certification offered by the Wyoming Department of Workforce Services through its Occupational Health and Safety Administration (OSHA).

"The Cowboy Star VPP program is all about continuous improvement and challenging ourselves to take outstanding safety policies and procedures and make them even better," said Jason Hartman, director of power delivery for Black Hills Energy. "It takes honesty, openness to change and great discipline to achieve Cowboy Star status. It has taken all of us, working together as a family, to achieve our goal."

To be considered, employers must apply to OSHA and undergo a rigorous onsite evaluation by teams of safety and health professionals. The Cowboy Star is awarded to employers who demonstrate exemplary achievement in the prevention of occupational safety and health hazards and continuously improve their safety and health management system. The distinction has only been awarded to two other companies in Wyoming's history.
"Wyoming OSHA wants every workplace to be as safe as it can possibly be, and our Voluntary Protection Program Cowboy Star businesses share our enthusiasm for safety," said Karen Godman, WYOSHA Program Administrator. "We are pleased to recognize Black Hills Energy's Cheyenne Prairie Generating Station for its commitment to keeping its workers safe."

"After more than four years of working toward this award, we are very honored to receive the Cowboy Star," said Hartman. "This designation is a testament of the true dedication that Black Hills Energy and our employees have toward safety practices at the Cheyenne Prairie Generating Station. And, while we are excited to achieve the award, we also recognize that it is only the beginning of our ongoing journey to enhance safety management systems at the CPGS through a proactive partnership with Wyoming OSHA."

The Cheyenne Prairie Generating facility is a 132-megawatt facility containing three gas turbine generators. One is a simple-cycle unit that is wholly owned by Cheyenne Light Fuel, and Power (CLFP). The other two are paired in a combined cycle with a steam turbine generator that is jointly owned by CLFP and Black Hills Power.