City To Relocate Bear To Indian Villiage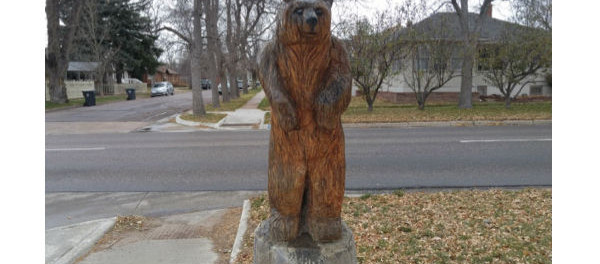 By Staff 3-14,2016
The City of Cheyenne and the homeowner at the corner of Warren Avenue and Third Avenue have reached an agreement to relocate a bear carved out of a tree trunk that is in the public right-of-way.
The bear will be removed starting at 10 a.m. on Wednesday, March 16, and will then be relocated to its new home at the Indian Village in Frontier Park. Evergreen Tree & Lawn Service will remove, transport the bear, and place it at its new location. The process could take as long as two hours, weather permitting.
"I'm very pleased to share that a most viable resolution has been reached regarding the iconic bear, and to share that a partnership was created to provide the bear a new home. Mrs. Bravo-Garris and I have been working together, and as she has shared with me, is very, very happy," said Mayor Rick Kaysen.
Kaysen also shared "in addition to working with Mrs. Bravo-Garris, our partners include Cheyenne Frontier Days, and Evergreen Lawn & Tree Service. I'm most grateful that Bill Berg, CFD General Chairman, and Tom Hirsig, Cheyenne Frontier Days Chief Executive Officer, are providing the Indian Village as the bear's new home. In addition, I am also very grateful to Mitch Reisdorfer, owner of Evergreen Lawn & Tree Service, in volunteering to relocate the bear and remove all stumps at no cost."
Heavy equipment will be utilized in the removal process and those attending the removal are encouraged to stay away from the work area for safety purposes. The right-hand northbound lane on Warren Avenue near Third Avenue will be closed while crews work on removing the bear.
The public is certainly invited for the bear removal, and placement at the Indian Village.