Cowboys Get Back on the Winning Track [AUDIO]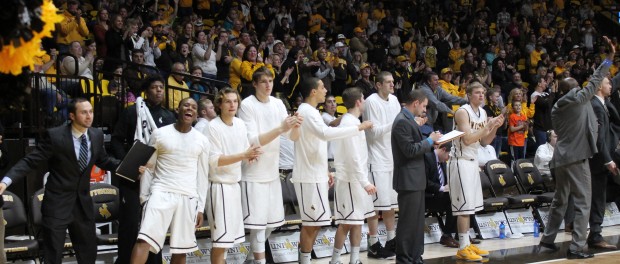 by Keith Kelley–31 Jan '15
The Wyoming Cowboys responded well after last Tuesday's loss at Utah State, as they beat Nevada Saturday evening, 63-55, in front of over eight-thousand fans in the Arena Auditorium.  Wyoming jumped out to a ten point lead at the half, and extended that to 13 points, 45-32, with just under 13 minutes to play.  But over the next seven minutes, the Wolf Pack chipped away at the Cowboy lead, to close the gap to just three, 50-47, with less than six minutes to go.  Wyoming would hit their free throws down the stretch to pull away with the win.
Nevada came into the game as one of the best rebounding teams in the country, with A.J. West among the league leaders in offensive rebounds.  But Wyoming not only held their own on the glass, they took it to the Wolf Pack, outrebounding Nevada by ten, and corralling more offensive boards, 12-9.  Both senior post players finished with double-double's for the Pokes, as Larry Nance Junior dropped in 11 points and pulled down ten boards, while Derek Cooke Junior had 14 and ten.  Cowboy head coach Larry Shyatt says Cooke definitely upped his game this evening, and even hit 4-5 from the free throw line.
The Cowboys dominance on the glass is a bit of a surprise, especially on the offensive boards, as the Cowboys don't focus much on that.  Nance says the edge in rebounding was the biggest key to victory for Wyoming.
Wyoming wasn't great from beyond the arc, just 6-17 in the game, but senior Riley Grabau continues to shoot well from three.  He finished the game with 18 points, including 3-5 from the three-point line, passing Cowboy great Fennis Dembo as he is now fifth all-time in three-pointers made.  Nance says that hitting those outside shots is important, because it allows the Wyoming post players more space inside.
Wyoming junior guard Josah Adams was the fourth Cowboy in double figures, with 13 points.  The Cowboys still had problems, especially in the second half, with turnovers.  They finished the game with 15, as the Wolf Pack turned those into 18 points.
The Cowboys are now 18-4 overall and 7-2 in the Mountain West.  They host Colorado State next Wednesday in Laramie.