Cowgirl Golf Wrap Up Ptarmigan Ram Classic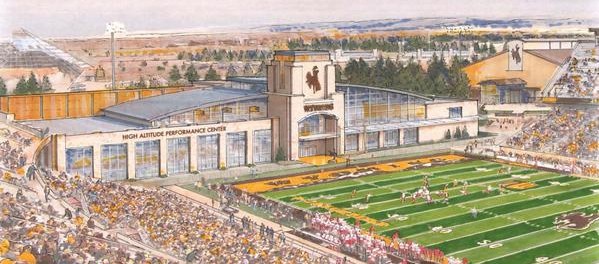 FORT COLLINS, Colo.– The Cowgirl golf team finished play at the Colonel Wollenberg Ptarmigan Ram Classic in Fort Collins, Colo., on Tuesday afternoon. Klara Castillo once again guided UW through the final round of play and finished as the top golfer for Wyoming. She shot an 82 (+10) on Tuesday to finish with a three-round tally of 234 (+18) to tie 64th.
The Cowgirls hit a 326 (+38) in the third round for a total of 938 (+74) to finish 16th at the Ptarmigan Country Club. BYU won at 876 (+12), San Jose State finished second with 880 (+16), with California placing third finishing eight shots behind at 888 (+24) in the 17 team field.
"The overall scores were higher due to high winds today," UW head coach Josey Stender said. "The conditions got to us mentally so we struggled with putting and being decisive."
Senior Kathleen Kershisnik carded an 80 (+8) on Tuesday and ended with 235 (+19) to finish tied for 71st of 90 total competitors. Sophomore Gabrielle Gibson tallied a 235 (+19) after an 82 (+10) in the final-round to finish tied with Kershisnik in 71st, while freshman Megan Knadler also hit an 82 (+10) to come in tied for 77th at 238 (+22). Playing as in individual, freshman Kaylee Knadler posted a final round score of 86 (+14) to finish her first collegiate tournament with 239 (+23). Junior Mackenzie Barrie scored an 88 (+16) in the final round and finished the tournament with 244 (+28).
"We had a great start to the event and I know the potential we have," Stender added. "We will take the next nine days before our home event and focus on consistency."
UW will next host the Wyoming Cowgirl Desert Intercollegiate in Palm Desert, Calif., on Sept. 26-27.
2015 Colonel Wollenberg Ptarmigan Ram Classic Team Standings
1. BYU: +12 (293-287-296=876)
2. San Jose State: +16 (297-287-296=880)
3. California: +24 (294-293-301=888)
16. Wyoming: +74 (302-310-326=938)
2015 Colonel Wollenberg Ptarmigan Ram Classic Individual Standings
T64: Klara Castillo: +18 (75-77-82=234)
T71: Kathleen Kershisnik: +19 (79-76-80=235)
T71: Gabrielle Gibson: +19 (74-79-82=235)
T77: Megan Knadler: +22 (75-81-82=238)
T79: Kaylee Knadler: +23 (73-80-86=239)*
T86: Mackenzie Barrie: +28 (78-78-88=244)