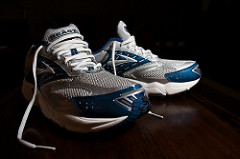 By Staff
MINNEAPOLIS – Running against several ranked programs, the University of Wyoming men's and women's cross country teams claimed 10th and eighth, respectively, at the prestigious Roy Griak Invite on Saturday at Les Bolstad Golf Course. No. 25 Michigan State won the 23-team men's field, while No. 20 Boise State finished ahead of three other ranked teams in the women's field of 26.
"I learned a lot today about what both teams need to work on before we race at pre-nationals in three weeks," UW head coach Bryan Berryhill said. "Audra [DeStefano] had a great race today finishing in the top 20. The women's team had a good day, especially our first-through-fourth runners. Aaron [Derner] ran well for the men's team, which had a solid effort overall."
Senior Audra DeStefano paced the Cowgirls for a second-straight race by placing 17th overall in 22:00 over the 6-kilometer course. Sophomore Kerry White has been slowed by a foot injury, but clocked 22:26 on Saturday for 28th. Junior Ali Walker finished 44th in 22:40, while fellow junior Megan Brunette was six seconds behind her in 50th place. Junior Catherine Cloetta ran 23:53 for 115th, freshman Kiah Leonard was 117th in 23:54 and junior Cassidy Meade was 124th in 24:01.
Senior Aaron Derner was the first Cowboy across the line in the men's 8-kilometer race. He placed 23rd at 25:34, while fellow senior Amos Bowen was 52nd in 26:06. Junior Alex Pawlak was 63rd in 26:17, while senior Dylan Morin was 78th in 26:34. Redshirt freshman Ricky Faure rounded out UW's scorers at 26:37 for 84th. Senior Mike Seas ran 26:50 for 96th and sophomore Jonah Henry was 126th in 27:22.
Wyoming returns to action at the Rocky Mountain Shootout on Saturday in Boulder, Colo.