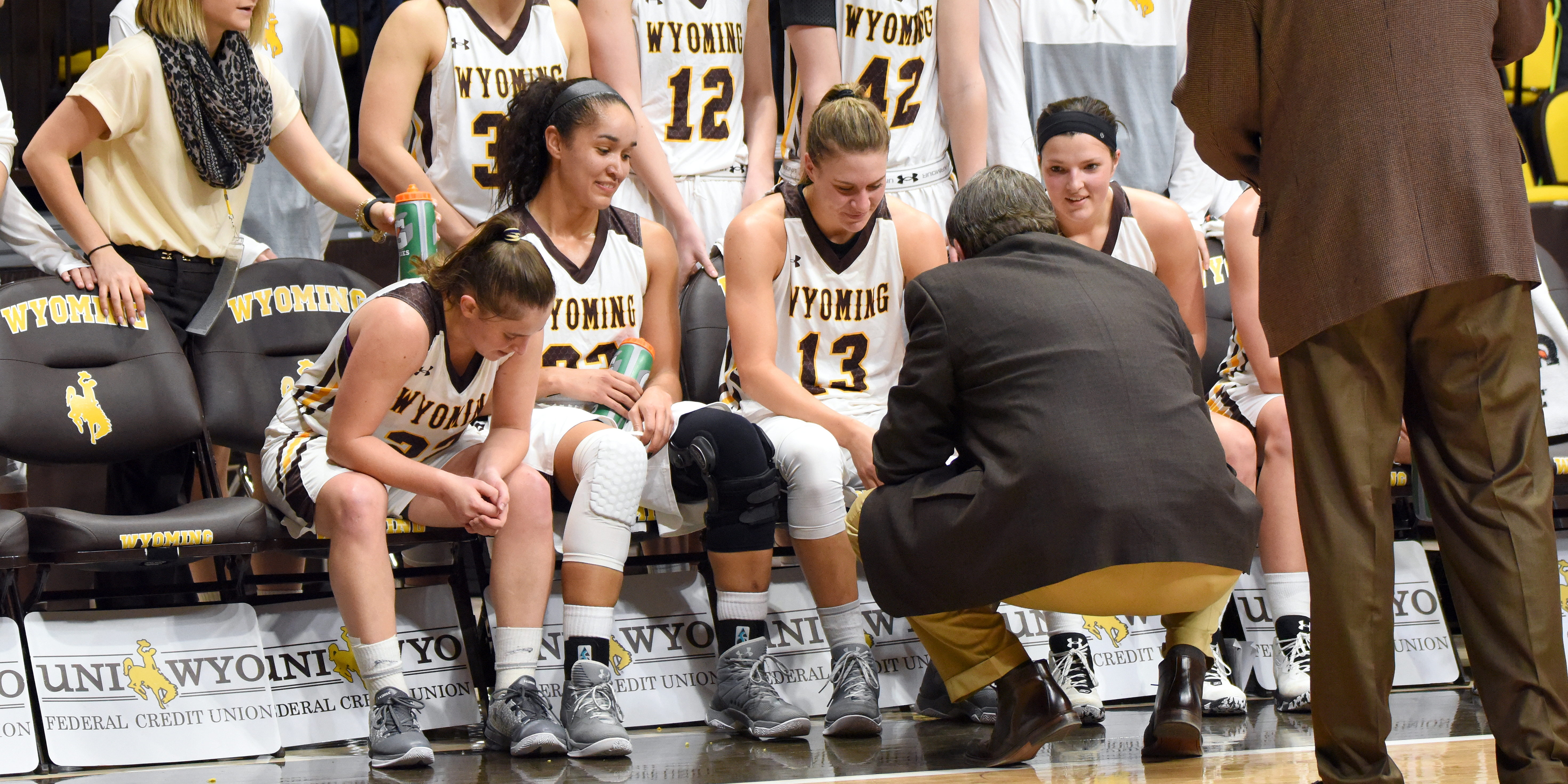 by staff–24 Jan '18
A late three-point field goal by junior Marta Gomez helped lift the Wyoming basketball team (13-5 overall, 6-1 MW) to a 65-62 victory over the Nevada Wolf Pack (11-8 overall, 4-4 MW) on Wednesday night. It's the sixth straight win for the Cowgirls and the third straight conference road win.
"You look at Marta (Gomez) every day and what a delight to have her on the team. It never seems like anything ever phases her, never too emotionally, too talkative, she's just Marta," head coach Joe Legerski said. "She stepped up earlier in the game when we had a draw and kick out of the corner which was a big shot as well. Tonight, we ran a play for the last shot, ran it down, executed it very well and give her credit. As I always say, I can determine who is on the floor, the offense we run or defensively, but is up to players to make plays. The biggest thing I look at in tonight's game that it was a team victory. Selale (Kepenc) came in off the bench, played well on both ends of the court. We are down the line-up with points from 12 to six and getting contributions from everyone. Eight players played and each one contributed."
Sophomore Selale Kepenc came in off the bench and recorded a team-high 12 points and tied a career-high with six rebounds. She was 4-of-8 (.500) from beyond the arc. Gomez followed with 11 points, two assists and shot 3-of-4 (.750) from beyond the arc. Senior Natalie Baker chipped in nine points while fellow senior Liv Roberts and junior Clara Tapia each chipped in eight points. Sophomore Taylor Rusk dished out a career-high seven assists and added six points. Wyoming shot 24-of-54 (.444) from the field and 11-of-21 (.524) from beyond the arc. As a team, they finished with 30 points off the bench and 12 second chance points.
Nevada was led by junior Jade Redmon who had a game-high 16 points in 31 minutes of action Junior Terae Briggs and senior T Moe finished the night with 11 points each while Briggs brought down ten boards. Senior Teige Zeller also recorded a double-double with ten points and a game-high 11 rebounds. The Wolf Pack shot 26-of-61 (.426) from the field and out rebounded the Cowgirls, 38-28.
Cotton scored the first basket to get UW on the board first. Nevada scored the next five of seven to take the lead 5-4. Five unanswered by the Cowgirls helped them to regain a four-point advantage, 9-5, but the Wolf Pack tied it up at nine all. A small run for Wyoming helped them take a 16-13 advantage. Redmon scored all of the points for Nevada to close out the quarter which was part of a 9-3 run to give them a 22-19 advantage after one. Junior Sladjana Rakovic hit a three to close the gap to one, 22-21 to begin the second period. Two quick baskets by the Wolf Pack extended the lead to back to five, 26-21. Gomez ended a three-minute scoreless stretch by UW followed by a Rusk layup cut the lead to one 26-25 through the media timeout. Briggs hit a shot to increase it back to a three-point lead, 28-25, but five straight capped off by a Kepenc three put the Cowgirls back up two, 30-28, with 2:29 on the clock. Six unanswered by Nevada helped the Wolf Pack go up four, 34-30. Two late free throws by Rakovic made it 34-32 headed in to the locker room.
In the first half, Wyoming was led by Rakovic who had a team high seven points. She was followed by Tapia and Kepenc with six points each, while Kepenc finished with five rebounds. The Cowgirls were 13-of-33 (.394) from the field and 4-of -11 (.364) from beyond the arc. As a team, UW recorded 15 bench points and 12 second chance points. Nevada was led by Redmon with 11 points followed by Briggs with six points. Zeller finished with seven rebounds in the half. The Wolf Pack shot 14-of-30 (.467) from the field and out rebounded Wyoming 21-16.
A three-point play by Nevada out of the break extended the lead to five, 37-32. Baker hit a basket to end the UW scoreless stretch followed by a jumper by Tapia evened it up at 37 all. The teams traded scores back and forth until Nevada ran off seven straight points to make it a six-point lead, 48-42, with 1:41 left in the third. After a Cowgirl a timeout, a three by Kepenc would start a 10-0 run to push the Wyoming lead, 52-48, early in the fourth quarter. One of two free throws by Redmon and a three by Moe quickly tied up the score at 52. The Cowgirls went up 55-52, but four straight by the Wolf Pack gave them a one-point advantage, 56-55, just over half way through the period. Free throws and a basket helped UW regain a four-point advantage, 60-56, but back to back jumpers evened it out at 60 all with. A two by Roberts followed by a rebound on the following possession gave the Cowgirls the ball up 62-60. Unfortunately, a turnover gave Nevada an opportunity to tie it up and they did off a Redmond jumper with 33 seconds to go. With time winding down, Gomez would get a look from three and convert putting Wyoming up 65-62 with ten seconds on the clock. Following a Wolf Pack timeout, a shot attempt by sophomore Camariah King would come up short as the Cowgirls held on for the 65-62 victory.
The Cowgirls return home on Saturday to host the San Jose State Spartans. The game is scheduled for 2 p.m. MT in the Arena-Auditorium.