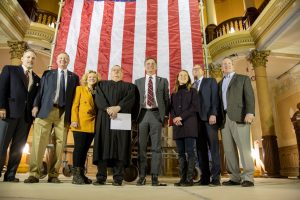 CHEYENNE, Wyo. (AP) — Mark Gordon wore a yellow safety vest for his swearing-in as Wyoming's 33rd governor, which happened in a well-known yet unusual setting.
The Republican took the oath of office Monday in the Rotunda of the Wyoming State Capitol in Cheyenne. What's unusual is the more than 128-year-old building has been closed for three years for renovations.
Because of safety restrictions, only a small crowd of relatives, officials and an Associated Press reporter witnessed the 6 a.m. ceremony under the glare of construction lights.
Wyoming's other four statewide elected officials also were sworn in before Wyoming Chief Justice Michael Davis in the Wyoming Capitol.
Gordon beat Democrat Mary Throne to succeed two-term Republican Gov. Matt Mead. The over $300 million project to renovate the Capitol and another building is nearing completion.