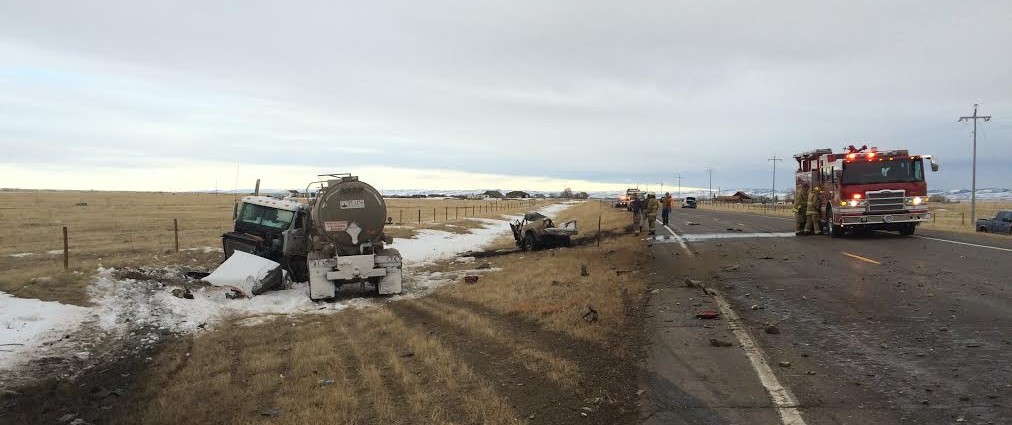 By Staff 2-8,2015
Mitchell D. Foust, 19 years old from Grand Junction, Colorado, has been identified as the deceased driver from a fatal crash that occurred on January 31st southwest of Laramie, Wyoming. The crash occurred on Wyoming State Highway 230 at 3:05 p.m. on the 31st near mile post 17 approximately 15 miles southwest of Laramie.
Foust was driving a 1998 Nissan Frontier pickup truck traveling west on WY 230 when the truck crossed into the eastbound lane in a right hand curve of the highway. A 2013 Freightliner commercial truck pulling a trailer loaded with crude oil was traveling east on WY 230 when the westbound Nissan entered the eastbound lane of travel. The Freightliner was driven by 34 year old Cheyenne, Wyoming resident Stephen Harvicks. Harvicks observed the Nissan enter the eastbound lane and applied emergency braking and steering to avoid the oncoming pickup truck. Despite Harvicks efforts, a head-on collision still ensued. Both vehicles immediately caught fire after the crash.
Harvicks was able to escape the cab of the Freightliner and was uninjured from the crash. He was wearing his seat belt at the time the crash happened. The fire was contained before reaching the trailer loaded with crude oil.
Foust was also wearing his seat belt but still sustained fatal injury on scene. Due to the ensuing fire, dental records had to be utilize to confirm Foust's identification.
The crash did cause WY 230 to be temporarily closed. Driver inattention is being investigated as the contributing factor in this crash that marked the sixth highway fatality in Wyoming for 2016.