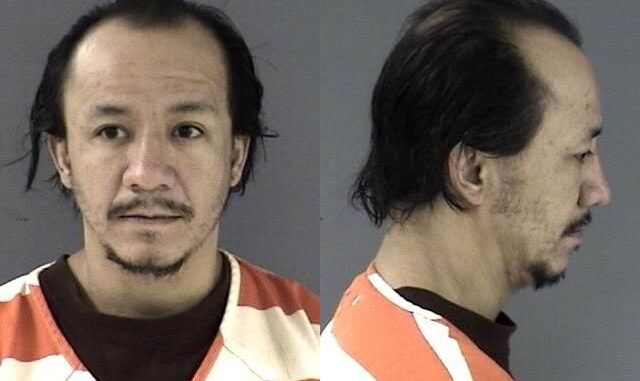 On Sunday, Cheyenne Police Officers received a report that a vehicle was stolen from The Donut Shop on Central located at 416 Central Avenue.
At approximately 6:45 a.m., the victim went inside to make a purchase and left his vehicle running with a key fob and a firearm in the center console. During the brief time he was inside, the suspect, later identified as 42-year-old Santos Munoz a transient, got into the car and drove away.
Through a geolocation feature, the owner could see that the vehicle appeared to be stationary in the 600 block of Pebrican Avenue. Officers quickly arrived and found that the vehicle was abandoned – the key fob and firearm were not inside.
The owner did not have a spare key and was unable to immediately recover the vehicle. He refused tow services and left the car at the location, relying on the geofence to send cellphone alerts if it moved.
At approximately 9:15 a.m., the owner received an alert that the car was moving. He tracked the
vehicle and simultaneously relayed location information to officers.
Around 9:35 a.m. an officer observed the vehicle traveling near the intersection of Morrie Avenue and East 20th Street. The officer attempted to make a traffic stop, but Munoz refused to yield and began to accelerate initiating a pursuit. Munoz drove recklessly, running a stop sign and at times, traveling in the wrong direction. The pursuit ended as he attempted to turn left onto Van Lennen Avenue at a high rate of speed and crashed into a tree. He exited the vehicle and fled from officers on foot. Traffic was light at the time of the pursuit and no injuries were reported.
Munoz was apprehended several blocks away from the crash. The key fob was found in his possession and the firearm was recovered outside of the crashed vehicle.
He was transported to Cheyenne Regional Medical Center for evaluation and then booked into the Laramie County Jail on the following charges:
• Motor vehicle theft (2 counts) (felony)
• Aggravated fleeing and eluding/property damage over $10,000 (felony)
• Felon in possession of a weapon (felony)
• Duty upon colliding with unattended vehicle/property
• Suspended driver's license