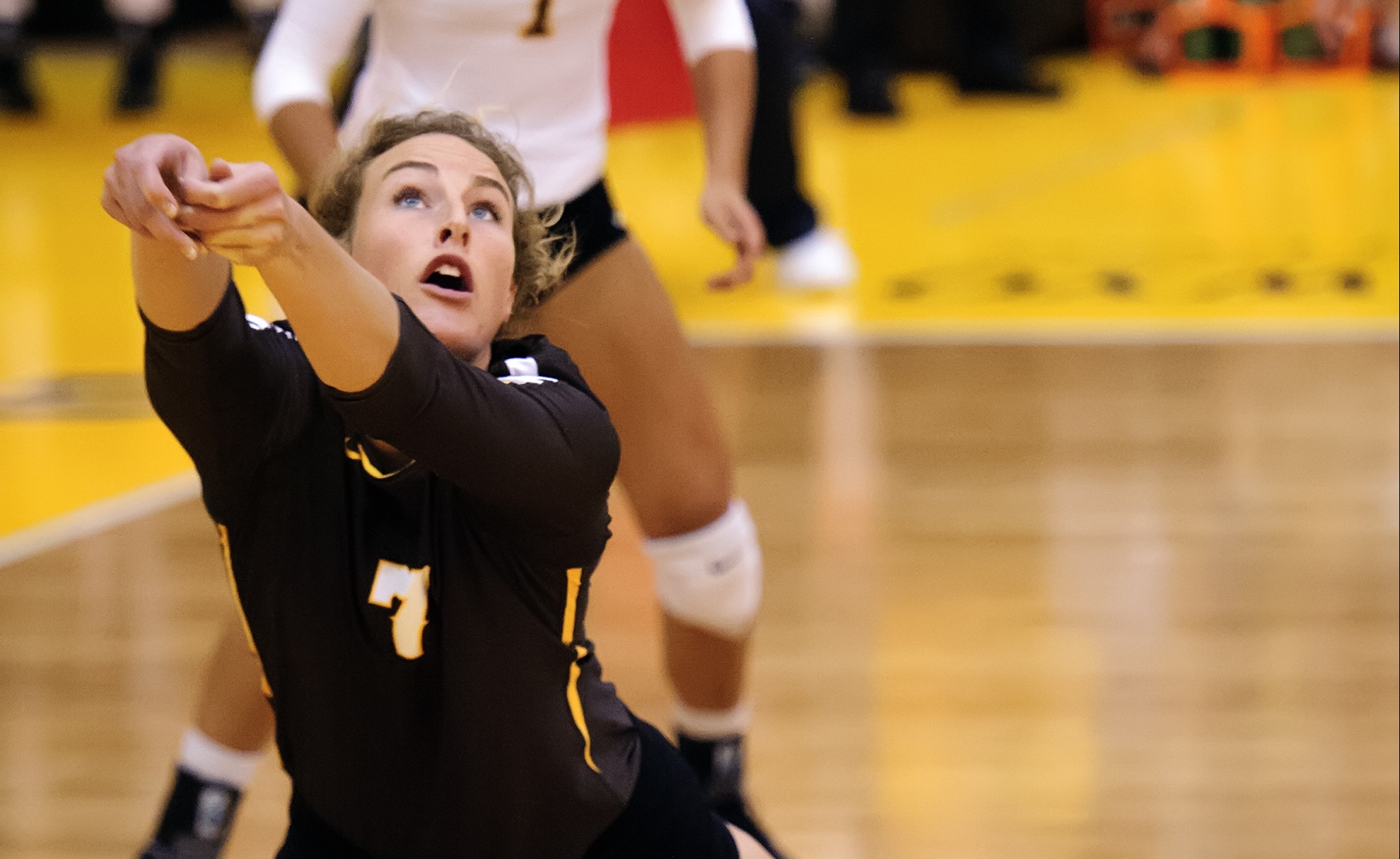 By Staff
Albuquerque, N.M. — Senior Bridget Shanahan became the 12th Cowgirl in school history to record at least 1,000 career kills, while Kayla Slofkiss and Mattison DeGarmo posted career-highs in kills to guide UW past New Mexico on Thursday night. Wyoming came away with a five-set win 3-2 (14-25, 25-21, 25-20, 18-25, 15-7) for its third-consecutive victory.
Wyoming finished with 61 kills on the evening, which proved to be the fourth time this season it had at least 60 kills during a match. Slofkiss lead the team with her 19 kills and was one of four Cowgirls in double-digits. For the first time in her career, DeGarmo finished a match with double-digit kills. She added ten for UW, while Kayla Henderson chipped in 11. Laura Beach had a solid night also recording ten kills for Wyoming. Shanahan finished with eight kills and moved into 12th place on the all-time list for Wyoming with 1,003 career kills.
Allison Waldvogel had her first double-double of the year, as Courtney Chacon recorded her seventh for the Cowgirls. Waldvogel had a team-high 27 digs in addition to 12 assists, while Chacon lead UW with 24 assists, to go along 16 digs. Cori Aafedt dished out 22 assists for the Cowgirls and also scooped up seven digs. Wyoming tied its season-high with 58 total assists and recorded its second-best total team digs with 76 total against the Lobos.
Freshman Reed Copeland had a match-high six blocks for the Cowgirls. Beach and Slofkiss each added four against New Mexico. Sophomore Lily Austin had eight digs on the evening, while Slofkiss brought in seven.
Waldvogel had four digs in the first set against the Lobos, as Slofkiss swatted three kills. She added six kills in the second frame, while Beach chipped in four. Slofkiss once again had six kills in the third set in addition to four digs. Waldvogel lead UW with six digs in the fourth set before recording nine in the final frame.