South Topples East For the First Time Ever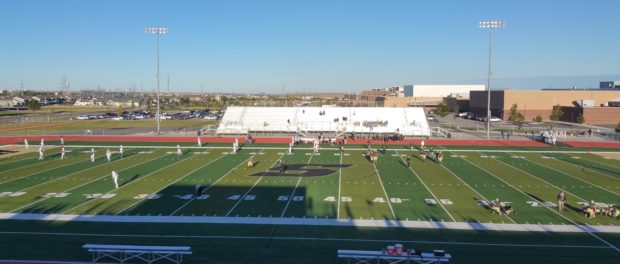 by Keith Kelley–9 Sep '16
After beating Central last Friday night, the South Bison were looking for the Capital City sweep.  And the fourth-ranked Bison got the win they were looking for, as they took down #5 East, 31-28.
South got on the board first, early in the second quarter, as Keyshawn Farmer scored from ten yards out on fourth-and-three, to put the Bison up 7-0.  The Thunderbirds would take the next possession and move right down the field, tying the game at seven after Matt Semler hit Noah James from five yards out.  South would score right before the half, on Bryce Codr's 43 yard field goal on the final play of the first half, giving the Bison at 10-7 lead.
East would take the third quarter right down the field again, this time it was Ethan Ashworth finishing off a long drive with a two-yard TD run.  Ashworth had 71 yards on that drive alone, as the T-birds led 14-10.  Ashworth finished with 139 yards on the ground.  It seem as if East had the momentum, forcing a South punt on their next drive.  That punt would hit an East player, and South would recover on the 12 yard line.  Bison running back, Dylan Mondragon took the very next play into the endzone for a score, giving South a 17-14 lead.
South would force another fumble, as Brady Dunn recovered the football.  The Bison would march down the field, scoring on a four-yard run by Keyshawn Farmer, giving South a 23-14 lead.  That lead would increase to 31-14 to start the fourth quarter, as Dre McCray scored from one yard out.  Farmer finished the game with 130 yards rushing, while McCray had 115 yards on the ground.
But East wasn't done.  The Thunderbirds rallied for a pair of touchdowns, on a 13 yard run by Semler, then a 30 run by the junior quarterback.  That made it 31-28.  But South would take the clock down to just 4.7 seconds, giving East one last shot from their own 13 yard line.  But Semler's pass fell incomplete around midfield.
The Bison improve to 3-0 on the year and will be at Kelly Walsh next week.  East falls to 1-2 and will host #2 Sheridan next Friday.
Other scores:
4A Football
#1 Gillette  47  Cheyenne Central 14
#2 Sheridan  49  Evanston  3
#3 Rock Springs  35  Casper Kelly Walsh 12
Natrona County  14  Laramie  13
2A Football
#3 Big Horn  58  Burns  22
1A Football
Pine Bluffs  41  Wind River  0