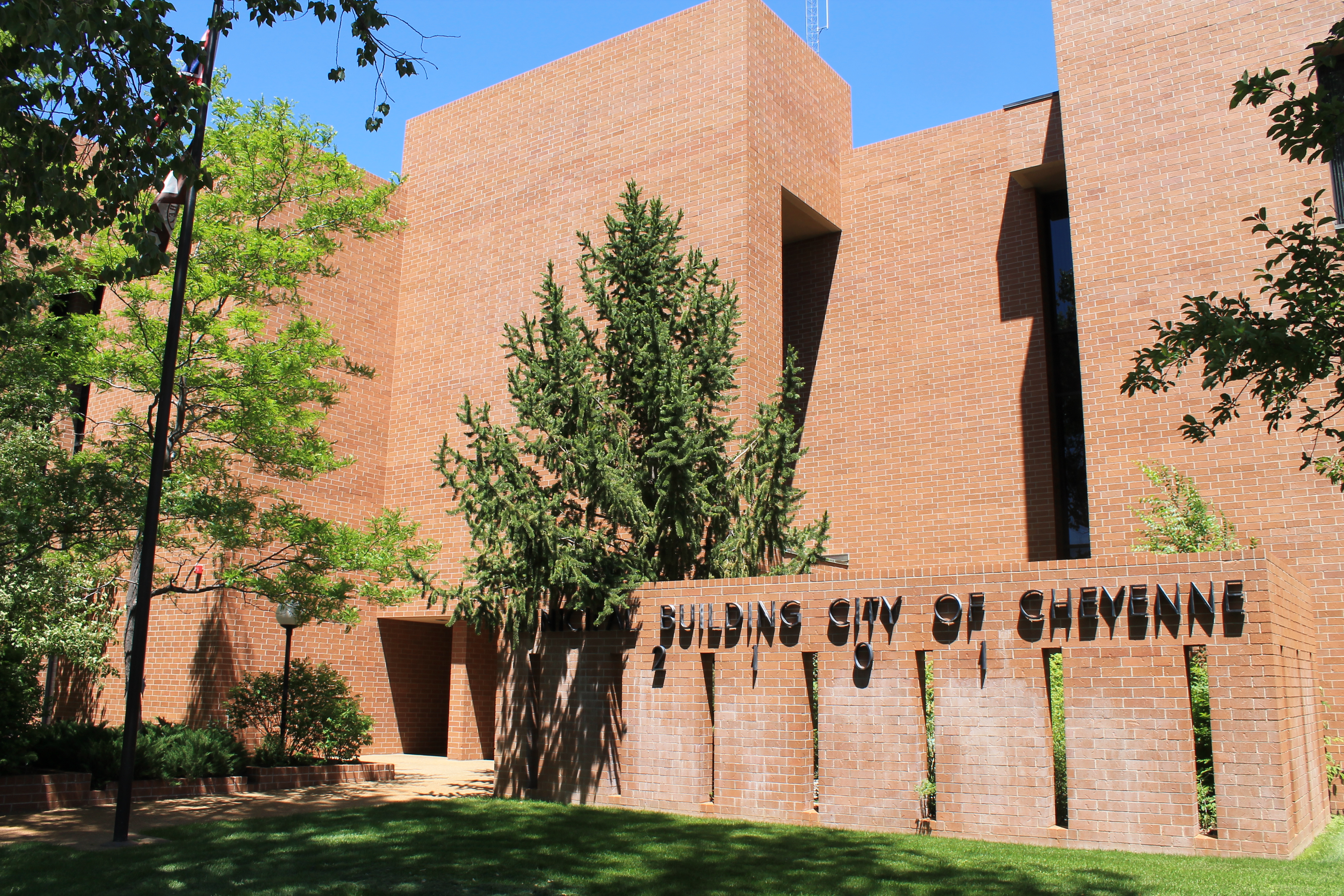 City 10-17-21
Youth Alternatives is celebrating 50 years of serving Cheyenne's youth. We attended a dinner last Friday to commemorate the event. Ronn Jeffrey was hired as a young 21-year-old, and he took the opportunity and built Youth Alternatives. It was nice to see Judge Jeffrey get the recognition he deserves. Youth Alternative serves around 1,000 youths a year. This means 50,000 families have been affected by their efforts. Thanks to all the employees and volunteers who have dedicated themselves to helping young people.
Carter Napier is the city manager in Casper. We have been talking about how our cities can work together. As we work to improve our services, policies, and opportunities, it is nice to share them to see if someone else has experience in the area. We are just starting, but I am excited about this opportunity to collaborate with other Wyoming cities.
I spend a couple hours a week meeting with developers to discuss projects they are trying to bring to the capitol city. It is exciting that so many people see Cheyenne as an opportunity. I always share with them how appreciative we are and offer any help we can give as a city. Entrepreneurs are how we are going to solve our housing crisis and diversify our economy.
The Laramie County Commissioners hosted all the elected officials for a dinner on Tuesday evening. I love the opportunity to meet with the folks from our smaller towns in the eastern part of our county, our state senators and representatives, and other county elected officials. It is nice to hear what is keeping them busy and share what we are working on. Special thanks to Senators Ellis and Pappas, and Representative Brown for the update on what is happening at the legislature. One sad part was our County Coroner reporting on the high suicide rate. It is a reminder we need to hold our friends and family close.
LEADS invited me to meet with a potential new business looking at Cheyenne. Creating jobs, and diversifying our economy is a must if we are going to thrive. Technology and manufacturing pay above the average wage and provide career opportunities that can keep our kids in town. I appreciate LEADS and their drive to build our economy.
Still working on the Belvoir Ranch and trying to design a trail system to give our residents access to the ranch. We spent three hours trying to find a place to build a bridge over the Union Pacific Railroad track located along the southern border of the Belvoir. As we discussed, Colorado has built an amazing trail system on the boarder, and we are trying to connect to it. You would think it would be easy, but this has been an exceptionally hard nut to crack.
GIS is an important tool that the City of Cheyenne, Laramie County, and BOPU collaborate on. It is amazing the things they do with this technology. I use their services to create maps that help me understand what is going on during meetings. It is important to highlight the way governmental agencies are working together. One project that we will need their services on is the redistricting of our city wards. State law requires the city to rebalance our wards after each census to make sure they are all about the same size in population. This technology will help make this process much easier.
If you have wondered what is going on as you see construction happening here in the city, you can go to the city web site and find out. Go to our web site, www.cheyennecity.org. Choose your government. Choose Departments, and then choose planning and development. In the informational maps section, choose development projects. You will see a map with a blue check mark. Zoom in on that map to show Cheyenne. You will see a check mark for every project. It will tell you what is happening, and many have site plans you can review. It is cool to know what is happening in your city.
We had to close the municipal building on Thursday afternoon. We have boilers on the 4th floor that are having trouble with gas, CO, and CO2. The parts to make the repairs will not be available for some time due to the shortages caused by the pandemic. We will have to keep the building closed and work remotely until the necessary repairs have been completed. All city departments will remain open and available to help our residents. We appreciate everyone having patience until we can get back to the office.
The question this week comes from Eric Dalton. He shared a concern that has been expressed to me by several people. His concern is the pocket parks we have in the core of the city. For the past two years, the city has not been watering and maintaining these pocket parks. He states that it is a simple matter of turning on the water. He is also concerned with the trees that have been planted in the pocket parks that need watering and could be lost by this practice.
Mr. Dalton is right, the city decided two years ago to forgo watering a large number of smaller parks and detention areas. With the covid pandemic just beginning, no one knew how it would affect the city budget. Large cuts were made to the budget, and this included in the staff levels. Our parks maintenance department was especially hard hit. Staff prioritized our parks to decide which would get maintenance. Parks that have heavy use by residents were prioritized. Unfortunately, many were left without. In my first budget, I was able to add enough staff to add 14 of these parks back into our maintenance program. We still have a few that staff could not get to. I will be working with the city council to try to add them back in the next budget year.
Mr. Dalton also raised the issue of the trees we have planted in these areas. Good news sir, our forestry department has been hand watering them for the past two years.
I will not be writing a Mayor's Minute next week as I am joining a group of guys on a golf trip. It is something we have done for years, and I am so excited to hit the links. These friendships help me to keep my focus on serving the residents of Cheyenne and I appreciate their unfiltered feedback. I am looking forward to the time to recharge.