Thunderbirds Rout Thunder Basin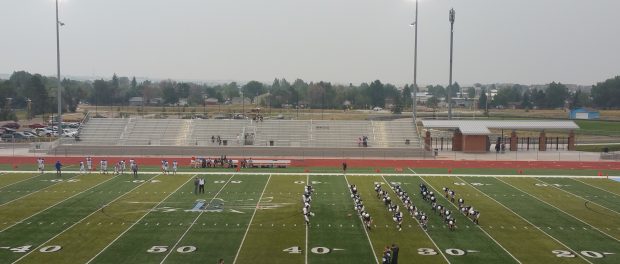 by Keith Kelley–8 Sep '17
In the first ever meeting between Cheyenne East and Thunder Basin, it was the third-ranked Thunderbirds taking down the fourth-ranked Bolts Friday night at Okie Blanchard Stadium, 39-7.
It was a slow start for both offenses, as it took a while to get going. It wasn't until East went into its bag of tricks, as they would fake a punt inside the Bolts 40 yard line, connecting on a Dakota Merritt to Noah James 38-yard TD strike, and it was 6-0 East. T-birds defensive lineman Konnor Fujinami said that really got everyone going, "Special teams definitely upped their game. Our punt group was terrific. Dakota Merritt made plays out there, and it upped the tempo for the defense and the offense, and we just started rolling."
That got the T-birds offense going, as Ethan Ashworth went 63 yards early in the second quarter to give East a 12-0 lead. Quarterback Matt Semler ran in from seven yards out and then Semler hit James from 14 yards out, giving East a 26-0 lead at the half.
It was more Thunderbirds in the third quarter, when Ashworth again rumbled in, this time from 37 yards, giving East a 32-0 lead. The final score was a fly sweep, as James ran in from 16 yards for his third TD of the night, and the T-birds were rolling 39-0 after three quarters.
Thunder Basin finally got on the board, as quarterback Mason Hamilton scored on a three yard run on the first play of the fourth quarter, for the final points of the game. The T-birds held the Bolts to just 249 yards of total offense and head coach Chad Goff said it started with pressure on their two quarterbacks, "It's been a long time since we had that much pressure on a quarterback, and I thought our d-lineman did a great job of getting rid of some of the offensive lineman, and getting pressure."
"We talked about it early in the game, and before, don't let them have set feet. They're good quarterbacks, so make them have happy feet. Then I thought our linebacker play was great. I thought the blitzes worked, they came through and made some great plays on them."
Ashworth finished with 156 yards rushing and two scores. Semler was 13-18 for 138 yards and a TD. Noah James had six catches for 84 yards and two scores, plus a rushing TD.
Defensively, Jake Jones recovered two fumbles and James had two interceptions.
East is 3-0 on the year, and will play South next Friday.
4A Football scores
#1 Sheridan 37 #2 Natrona County 34–OT
#5 Kelly Walsh 41 South 6
Rock Springs 28 Central 27
Laramie 44 Campbell County 0