Thunderbirds Top Bison in Thriller [AUDIO]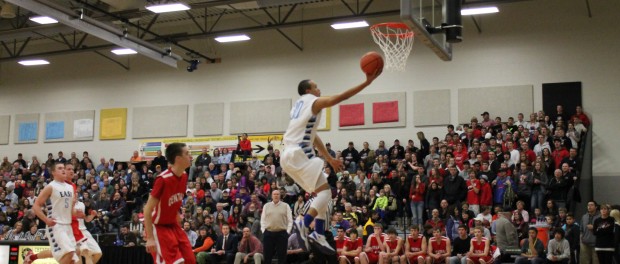 by Keith Kelley–5 Feb '15
Cheyenne East was able to hold off a late Cheyenne South rally, to beat the Bison at South High School Thursday night, 56-53.  With the win, the T-birds are in a first place tie with both Laramie and Sheridan atop the 4A East Conference.
Down five late, South's Michael DeBruyn drilled a long three-pointer to get the Bison to withing two.  Then with 8.6 seconds left, East senior Zach McCord hit one of two free throws.  South's Richard Blackwell came away with the basketball and headed down the floor for a chance to tie the game.  But Blackwell was stripped at half-court by McCord, as the second-ranked Thunderbirds escaped with the win.
The game was tied at 41 heading into the fourth quarter.  That's when East turned up the defensive pressure.  The T-birds would take a seven point lead, the largest of the game, as South didn't make a shot until there was a little more than a minute left.  Head coach Jeff Bailey said it was a solid win for his team.
McCord led the T-birds with 15 points, while Elijah Oliver added 14, as East improved to 11-3 overall and 3-1 in the conference.  Richard Blackwell led South with 21 points, while Michael DeBruyn added 13, as the Bison fall to 7-8 and 0-4.
East will be at Laramie Friday, while South is at Cheyenne Central.
#3 Cheyenne East girls 64  Cheyenne South 31
The East girls basketball team used a pair of big runs in the first and third quarters, as they rolled to a big win over the Lady Bison, 64-31, snapping a two-game losing streak.  Leading 3-2 early on, the Lady T-birds would go on a 17-0 run, and led by 15 at the half.  Then, after South scored the first five points of the third quarter, East would go on a 17-3 run, to open up a 45-21 lead heading to the fourth.
East did a good job of executing their half court offense against the South zone defense, as they were great in their high-low sets according to head coach Rusty Horsely.
Sophomore Cosette Stellern led East with 18 points, as the Lady Thunderbirds improve to 14-2 overall and 2-2 in the East Conference.  Dani Noble lead South with ten points, as the Lady Bison fell to 7-9 and 1-3.
Other scores:
Boys
Laramie  61  Cheyenne Central  54–2OT
Girls
#5 Cheyenne Central  67  Laramie  56