Truck Crash Fire Closes I-25 Saturday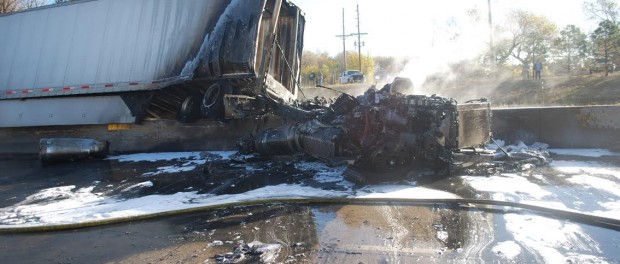 A crash on October 17th involving two vehicles at mile post 12 on Interstate 25 resulted in a truck fire and interstate closure. The crash occurred around 8:00 a.m. on I-25 in Cheyenne near Lake Absarraca.
A southbound 2013 Freightliner commercial truck with trailer, driven by 33 year old Olim Sultonov of Hollywood, Florida, initially left the interstate to the west, struck a sign and light pole in the west ditch before being overcorrected back onto the southbound lanes. The overcorrection sent the commercial vehicle into the concrete jersey barrier in the median. Debris from the crash with the jersey barrier was sent into the northbound lanes of I-25 striking a northbound 2010 Chevrolet pickup driven by 29 year old Cheyenne, Wyoming resident Bethann Hoover. The southbound commercial vehicle came to rest on top of the jersey barrier and caught fire.
Olim Sultonov was treated for smoke inhalation. No other injuries were reported. Mr. Sultonov has been cited for lane use with other charges pending as the investigation is still active.
Both southbound and northbound lanes of I-25 were closed for approximately one hour before single lanes of traffic were permitted around the crash scene. All lanes of I-25 were reopened around 3:00 p.m.