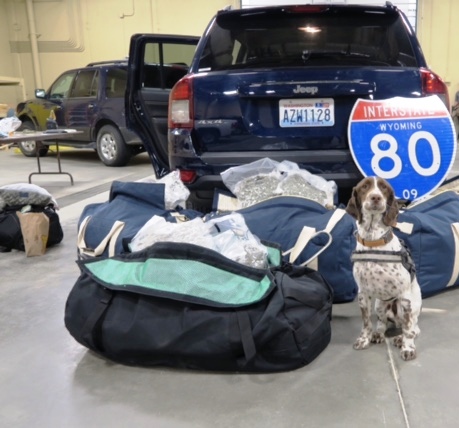 WHP 4-27-2017
The Wyoming Highway Patrol recently participated in a criminal interdiction initiative along the Interstate 80 corridor April 10th though the 15th. This initiative was in conjunction with a nationwide effort by the Ohio State Highway Patrol to focus interdiction resources along I-80 across the nation. For this initiative, WHP K-9 teams were patrolling I-80 in the Cheyenne, Laramie, Rawlins, Rock Springs, and Evanston areas. The WHP K-9 Teams, along with their respective division Troopers assigned to I-80, conducted a high number of traffic stops after a violation was observed with an emphasis on looking for criminal activity including human and drug trafficking as well as increasing highway safety.
The WHP Troopers and K-9's stayed busy during the initiative as multiple arrests and drug seizures were made. By the time the initiative was over, 21 drug related felony charges and 13 drug related misdemeanor charges were filed. 10 non-drug related felony and misdemeanor arrests were also made. Approximately 16 pounds of methamphetamine , approx. 249 pounds of marijuana and THC edibles, approx. eight-tenths of one pound of ecstasy, and smaller amounts of prescription medications (such as oxycodone) were also interdicted during the initiative.
Also interdicted during the initiative in Wyoming were one missing/endangered male who was reunited with his family, one child who was taken into protective custody, two sex offenders in violation of sex offender registry, one stolen vehicle, one stolen handgun, and approx. $2,000 in suspected drug proceeds.
Shortly after the initiative ended, an interdiction stop on I-80 west of Cheyenne on April 19th resulted in 360 pounds of marijuana seized.
The criminal interdictions were a result of 982 highway safety related traffic stops that resulted in 673 warnings and 530 citations including five impaired driving arrests, 30 seat belt, and 10 child restraint tickets issued. 32 motorists also received some form of assistance during the initiative.
No fatal crashes occurred on I-80 in Wyoming during the initiative.
Nationwide, participating agencies initiated a total of 3,615 traffic stops. There were 30 arrests for impaired driving and 116 seat belt citations issued. Criminal enforcement resulted in 56 felony drug charges and 75 misdemeanor drug charges. Five stolen vehicles were recovered and six illegal weapons were seized.