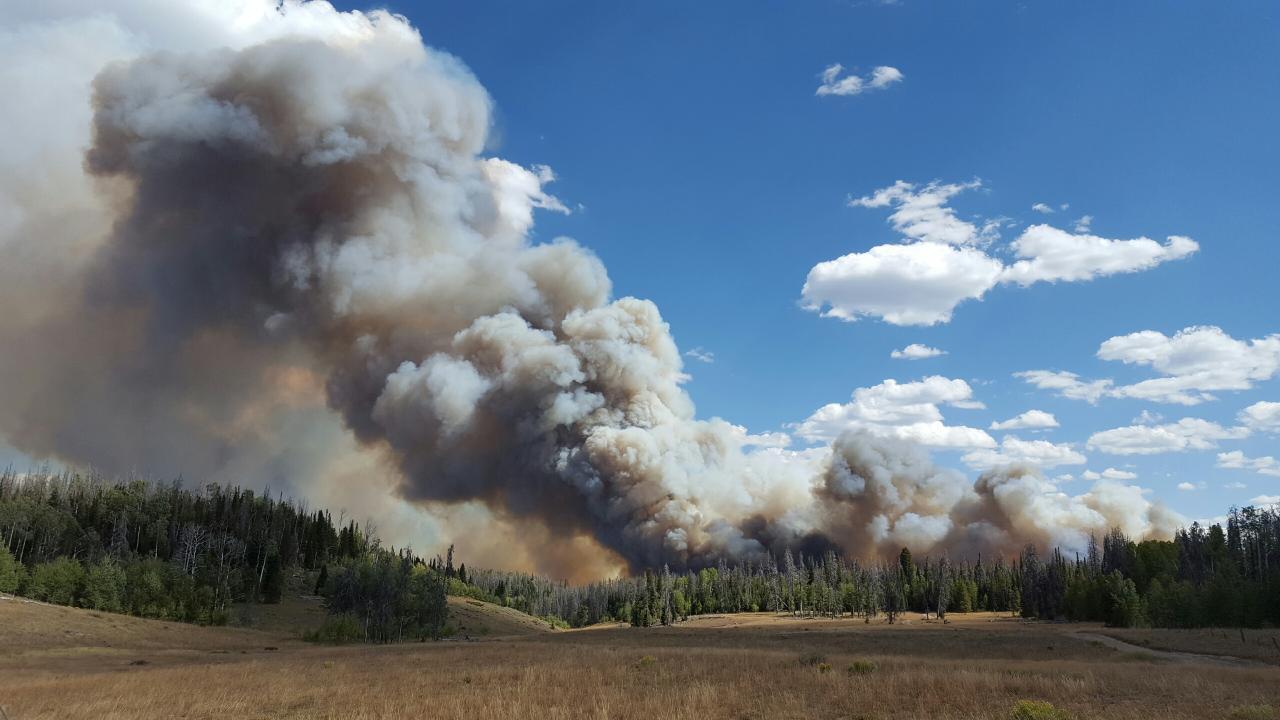 By Staff 9-13,2016
This past weekend the Snake Fire broke out in a critical water collection and storage area for Cheyenne's water system. The Snake Fire, located in the Sierra Madre Range on the Medicine Bow National Forest near Hog Park Reservoir (specifically five miles southeast of Battle Creek Dispersed Campground) grew rapidly from 30 acres on Saturday to 2,659 acres on Monday, September 12, 2016.
"The location of the fire is close proximity to our major watershed collection area for the Hog Park Reservoir" said Dena Egenhoff, the Board of Public Utilities' (BOPU) Water Conservation Manager. "We are unable to know the impact of the Snake Fire at this time, but the location suggests there may be some adverse impacts to the City of Cheyenne's water collection system." As of September 11, 2016, the Hog Park Reservoir is 91.8% full
For Cheyenne, BOPU collects water in the Little Snake River drainage from snow melt and streams and transports it under a mountain by a tunnel to the eastside of the Continental Divide. That water is then stored in Hog Park Reservoir. From there, the collected water from Hog Park Reservoir is traded for water in Rob Roy Reservoir which can more easily be transported without pumping to Cheyenne. "In this way, the amount of water can be exchanged between the two different Mountain Ranges with all water rights being satisfied," said Dena Egenhoff.
The issue with forest fires, such as the Snake Fire, can trigger erosional issues that may damage dams, clog pipelines and shrink water storage capabilities in reservoirs and alter water quality characteristics. "We are working closely with the US Forest Service and State Forestry" Egenhoff stated. "Along with the safety of the fire team, local residents and visitors; future erosion and sediment transportation from the fire concerns the BOPU."
According to the National Wildfire Coordinating Group's website (www.irciweb.nwcg.gov), a fire team of 124 personnel are assigned to the Snake Fire including four helicopters, two Type I hand crews, one Type II hand crew and multiple engines with additional resources in the works.
The BOPU is also partnering with the Wyoming Water Development Office on a Cheyenne Municipal Watershed Wildfire Hazard Mitigation Assessment project. This project outlines site-specific forest management treatments that will minimize impacts to BOPU's supply reservoirs and infrastructure. Become an active participant as this project unfolds. Contact the Wyoming Water Development Office at tony.rutherford@wyo.gov or contact BOPU at degenhoff@cheyennebopu.org for the next Wildfire Hazard project meeting and become involved protecting our water resources.