WYHY Breaks Ground on New Branch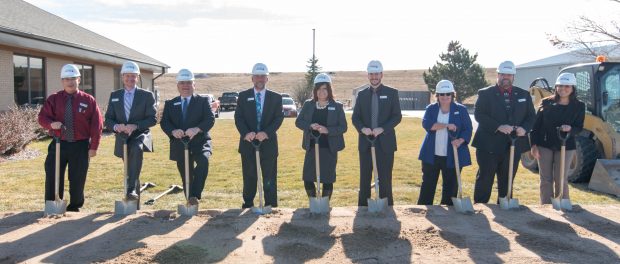 WYHY 11-19-18
This past Thursday, November 15, WyHy Credit Union celebrated the official kick-off and groundbreaking of their Cheyenne branch remodel and expansion. Along with various Cheyenne staff, and Credit Union Board of Directors, Supervisory Committee and leadership team, WyHy shared in their celebration with various city representatives, President of their Branch Brand Design Firm, Ralph Macchia from LaMacchia Group, and Senator Tara Nethercott, on behalf of the Greater Cheyenne Chamber of Commerce.
"Our "We're with you." tagline is more than just three simple words," says WyHy's President/CEO Bill Willingham. "It encompasses the principles we live by to serve our members, and the community. Every day we show our members how we're with them, but the avenues and tools our staff needs to provide the best financial relationship possible is changing, evolving, and we need to adjust how we do business in order to remain relevant and proactive not only for our members, but our team here at WyHy as well."
So far in 2018, WyHy has implemented such advancements as tablets, online signature-based document systems, and cash recycling machines. In the near future other elements will be brought onboard such as a new account and loan application system that will allow anyone anywhere to virtually bank with WyHy, text messaging alerts and communication options.
"The need for a branch of the future is a need of today, so it's exciting to be starting on this adventure to update our branch locations which will incorporate technology with a personal touch, allowing for a full 360-degree, personalized banking relationship for any member of WyHy," states Willingham. "It's also exciting to be able to provide our staff the opportunity to be so much more and do so much more for the members they serve. It's going to be a big undertaking, but we're excited to officially get the wheels in motion."
WyHy has also begun the remodel of their Casper branch location, with both branches looking to be fully completed by summer 2019. Both branches will remain open and in full operation over the construction timeframe, with WyHy committed to keeping its members, staff and the public consistently updated throughout it all.
For WyHy's full branch remodel and expansion details, please visit: https://www.wyhy.org/Promotions/Promo-4.aspx