Wyoming Guard to Deactivate Unit in Coming Budget Cuts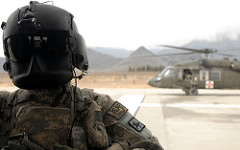 Associated Press
CHEYENNE, Wyo. — Wyoming National Guard officials say a 183-person company will be deactivated as part of budget cuts decreasing the size of the Guard.
Capt. Tom Blackburn of the Wyoming Military Department said in a statement Monday the members of the 1041st Multi-Role Bridge Company will be assigned to a new 131- person infantry company or other units in the state.
The deactivation is expected to be completed over the next year.
The 960th Brigade Support Battalion also will lose 114 positions by 2017.
Wyoming Army National Guard chief of staff Jesse Kirchmeier says military officials have been planning for the changes by moving soldiers out of the unit and not filling vacancies.
The changes are expected to result in a decrease in the Wyoming Army National Guard from 1,707 soldiers to 1,590 soldiers.