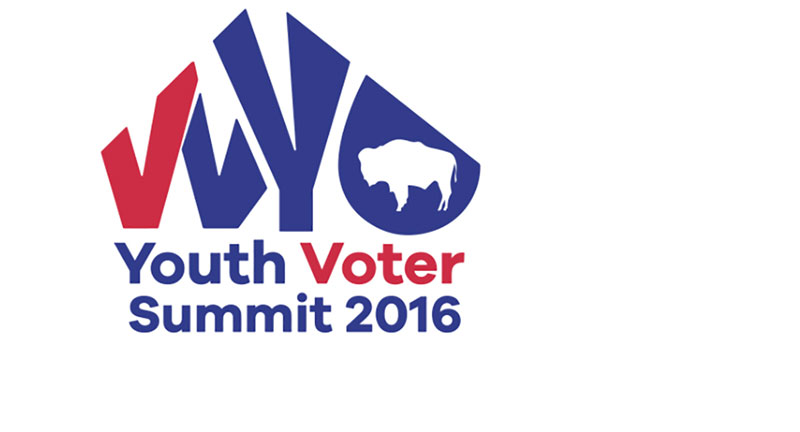 UW 9-29, 2016
Panel discussions, remarks by Wyoming Gov. Matt Mead and Secretary of State Ed Murray, and a performance by Chancey Williams and the Younger Brothers Band highlight the first Wyoming Youth Voter Summit Tuesday, Oct. 4, at the University of Wyoming.
The summit takes place from 10 a.m.-4 p.m. at the Marian H. Rochelle Gateway Center and is free for all attendees, with lunch provided. Voter registration will be provided by Albany County Clerk Jackie Gonzales' office from 9 a.m.-5 p.m., throughout the summit.
"Only 10.6 percent of youth aged 18-24 chose to vote in the 2014 general election," says Murray, whose office has organized the event. "This year, the first-ever Youth Voter Summit is meant to inspire our youth across Wyoming to get out, get informed and cast a ballot. By casting a vote, our youth have the opportunity to determine their future as well as the future of Wyoming and our nation."
The summit will include perspectives on the importance of voting from Wyoming's youth, with a keynote address by Wyoming native and Olympic gold medalist Rulon Gardner at 2:45 p.m.
Murray is scheduled to deliver welcome remarks shortly after 10 a.m. The first panel discussion, "Civic Education and the Youth Vote," is scheduled at 11 a.m. Panelists are Judge Ronn Jeffrey of Cheyenne Municipal Court, Associate Professor Andrew Garner of UW's Department of Political Science, UW graduate student Melanie Vigil and Kylie Taylor of the law firm of Holland & Hart.
A second panel discussion, "Youth, Politics and the Media," is set for 1 p.m. Panelists are Associate Professor Kristen Landreville of UW's Department of Communication and Journalism, Wyoming Department of Education Communications Director Kari Eakins, Cheyenne KGAB Radio morning host Gary Freeman and Casper Star-Tribune reporter Laura Hancock.
The governor is scheduled to speak at 2:30 p.m.
Wyoming's own Chancey Williams and the Younger Brothers Band will perform at the Gateway Center starting at 7 p.m.
Murray is working with the Associated Students of UW to promote the event.
"We're very passionate about youth involvement in politics and community engagement," says ASUW Director of Governmental Affairs Chris Ryan. "The summit is going to be a great opportunity for students to learn about what is going on in their state, how they can get involved and why their voice matters."
Ryan encourages students to attend, noting that the Campus Commuter shuttle runs every 10 minutes with stops at the Wyoming Union and Gateway Center for students who need to come and go for classes.
The events of the day will be live streamed and broadcast at Casper College and Laramie County Community College.
"We are thrilled to be holding this summit for youth from across Wyoming, thanks to our sponsors," says State Election Director Kai Schon. "This event is funded by our generous partners, who agree that low youth voter participation is a serious issue."
For more information, visit 2016yvs.visitlaramie.org. Preregistration for the summit is encouraged for a head count, but not required.