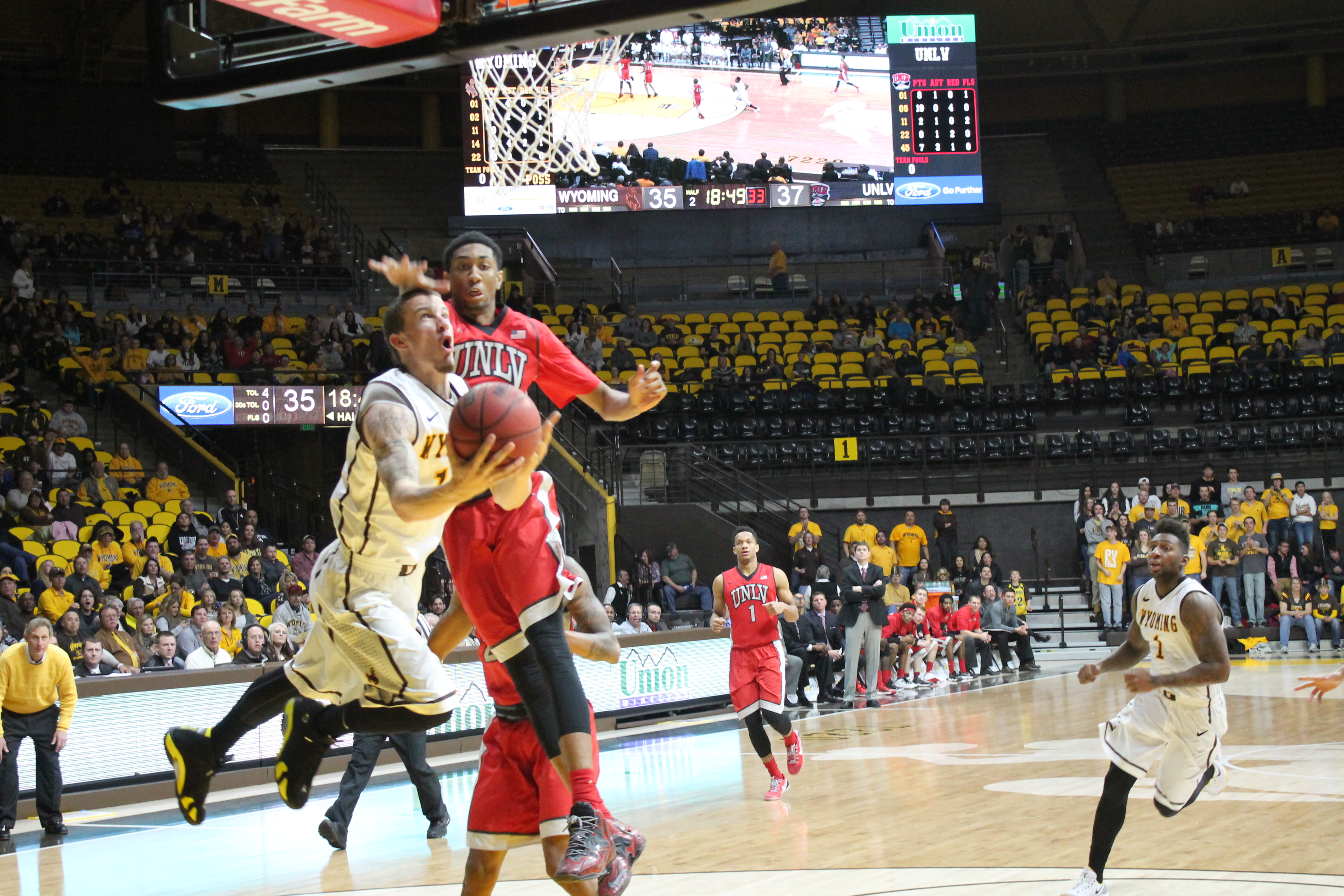 By Staff
LAS VEGAS – Wyoming's Josh Adams has been named to the preseason All-Mountain West team, as the conference announced its 2015-16 preseason media poll and accolades today at the MW Men's Basketball Media Days. The Pokes were picked to finish eighth as a team, garnering 101 points from the media covering the MW, but have outperformed their preseason pick in each of the last two seasons.
Adams enters his senior season at Wyoming after a standout 2014-15 campaign that saw him earn All-MW Third Team during the regular season and MW Championships MVP at the league tournament. For the season he averaged 12.8 points, 3.3 rebounds and a team-high 3.6 assists, while shooting 44 percent from the floor and 33 percent beyond the arc. His 126 total assists ranked 10th in UW single-season history. He is three assists shy of Wyoming's all-time top 10 and eight shy in steals. With 1,079 career points already, he is the first Cowboy to enter his senior campaign already over 1,000 points since Brandon Ewing in 2008-09. Tuesday also marked the second-straight season a Cowboy has been on the preseason All-MW team, after Larry Nance Jr. earned the accolade in 2014-15.
Defending co-MW regular-season champions San Diego State and Boise State were the overwhelming preseason favorites to finish the 2015-16 regular season in first- and second-place, respectively. The Aztecs received 22 of a possible 25 first-place votes and 272 points to garner the top spot in the poll. For the second consecutive year, the Broncos claimed the second spot, earning two first-place votes and 234 points, while Utah State received 190 points to finish third. UNLV collected 185 points for fourth place, followed by Fresno State, which received one first-place vote, in fifth (182 points) and New Mexico (164 points) in sixth. Rounding out the poll were Colorado State (144 points) in seventh, Wyoming (101 points) in eighth, Nevada (97 points) in ninth, Air Force (51 points) in 10th and San Jose State (30 points) in 11th.
Fresno State's Marvelle Harris was named the Preseason Player of the Year, New Mexico's Tim Williams the Preseason Newcomer of the Year and UNLV's Stephen Zimmerman the Preseason Freshman of the Year. Adams was joined on the preseason All-MW team by Harris, San Diego State's Winston Shepard and Boise State's Anthony Drmic and James Webb III.
The Cowboys open the season on Nov. 7 with an exhibition game against Fort Lewis in the Arena-Auditorium, as Wyoming will unveil its championship banner in a special pregame ceremony. Fans can purchase season tickets by calling the Wyoming Athletics Ticket Office at 877-WYO-FAN1 (877-996-3261) or going online at GoWYO.com.