Barrasso Spends Thanksgiving with Wyoming Troops in Qatar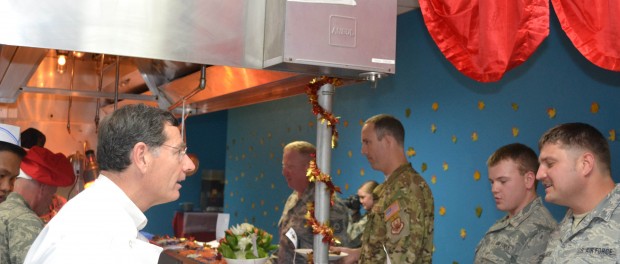 By Staff – 27 Nov '14
Wyoming Senator John Barrasso shared Thanksgiving dinner with Wyoming National Guard airmen serving in Qatar. Barrasso visited with members of the 187th Airlift Squadron, who support airlift operations out of Al Udeid Air Base.
"Wyoming has about 100 Air National Guard airmen deployed in Qatar and they are doing an outstanding job," said Barrasso. "I was honored to share Thanksgiving with them and have the opportunity to speak with them about home. We talked about Cowboy football, their families and the weather back home. I made sure they knew how much folks back in Wyoming miss them and how proud we are of their service."
Barrasso served Thanksgiving dinner to the service members, toured the 187th facilities, and was briefed by military officials about the operations in the Middle East.