Celebration Festivities For Wyoming 125th Anniversary Set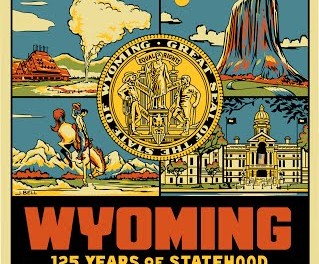 By Staff 7-9,2015
A special event celebrating the 125th Anniversary of Wyoming Statehood will be held from 3 p.m. to 10 p.m., July 10 in the Capitol Complex and the Historic Governors' Mansion.
Gov. Matt Mead, the state's elected officials and the Wyoming State Legislature invite the public to help celebrate this momentous occasion.
Gov. Mead has authorized the release of state employees at 3 p.m., to join in the festivities. The celebration begins with remarks by Gov. Mead, Gov. Dave Freudenthal, Gov. Jim Geringer and Gov. Mike Sullivan and other dignitaries on the Capitol steps.
The party then moves to the lawns of the Barrett and Supreme Court buildings, where kids' games and activities will take place, as well as an ice cream social. The day's festivities continue with entertainment featuring the 67th Army Band, Wind River Dancers/Drummers, Buffalo Bill Boycott and Jalan Crossland. The public is encouraged to bring their own chairs or blankets to watch the entertainment from the lawn.
Other special attractions include an exhibit of part of Wyoming's actual Constitution in the Wyoming State Archives, a 125th Anniversary Exhibit and behind the scenes and collections tours at the State Museum, Historic Governors' Mansion Tours and a scavenger hunt at the Historic Governors' Mansion.
Also at the State Museum, nine Wyoming authors – Larry Brown, Chip Carlson, Linda Fabian, Angi Harper Beauheim, Tamsen Hert, Rick Ewig, Carol Price Tripp, Bill Sniffin, Starley Talbot, Paula Taylor and Nancy Weidel – will be on hand to sign copies of their respective books available for sale.
Also, free Cheyenne Trolley transportation will be provided between the celebration and the Friday Nights on the Plaza performance provided by Wash Park Funk Band at the Depot Plaza.
The celebration will conclude with a fireworks display above the Capitol Building at approximately 9:30 p.m.
Due to the celebration, road closures involving Central, Capitol and 24th St., will be in place as early as 8:30 a.m.