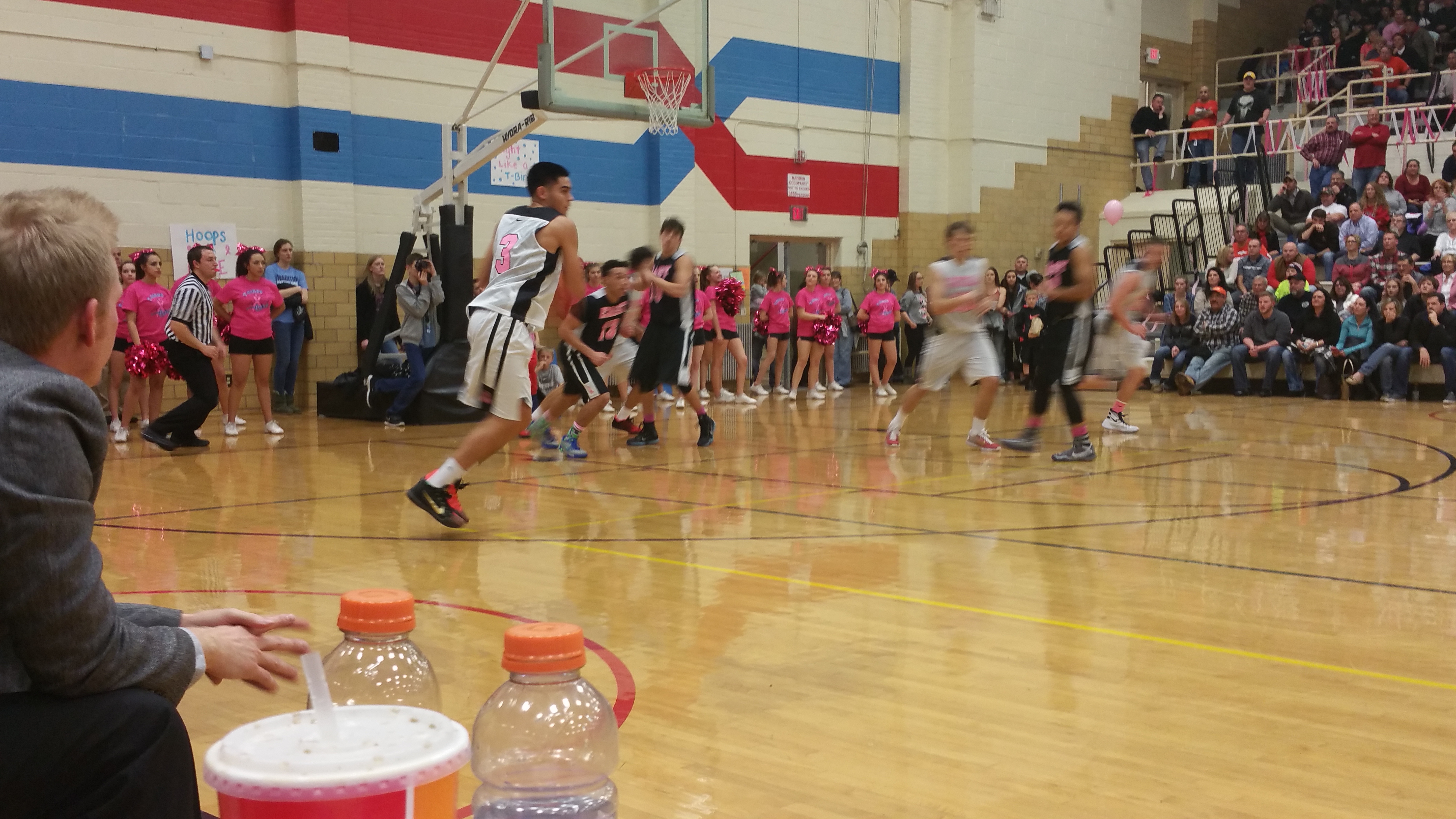 by Keith Kelley–23 Jan '16
It was an exciting night at Storey Gym Friday, as East and Central renewed their crosstown rivalry in the hardwood.  The top-ranked Central boys had to rally past #4 East in the second game of the doubleheader, as the Indians pulled away for a 61-53 win.
It was a slow start for Central, as the East defense came out in their 1-3-1 zone defense, and the Indians went nearly three and a half minutes before scoring, and the Thunderbirds led 12-7 after the first period, thanks to a pair of three-pointers by senior Elijah Oliver.
The offense would pick up on both ends of the floor, but it was still the T-birds in control of the game at the half, leading 27-21.  East would build that lead in the third period.  And up 41-33 late in the quarter, Central caught fire.  They outscore East 28-12 the rest of the way to pick up the win.
Nicholas Fraley led three in double figures with 14 points, nine in the fourth quarter.  Jessen Reckling added 11, while Dontel Ybarra had ten.  East was led by Tyler Peeples and Oliver, both with 14 points
Central is now 9-3 on the year, 1-0 in the East Conference, while the T-birds fall to 8-4 and 0-1.
#2 East girls  49  #3T Central  42
The third quarter was the difference in the opener at Storey Gym, as the East girls pulled away from Central in the eight minute session, and held on for the win.
The Lady Indians frustrated East early with their 2-3 zone, forcing the Lady Thunderbirds to hit shots from the outside, which didn't happen.  But Cosettte Stellern took things over inside, scoring six of her team high 12 points in the third, helping East pick up the win.
Central's Abby Fearneyhough led the way for the Lady Indians with 16, while Claire Swanson added 14, all of them in the first half.
East got production from Jessie Erickson with 11, Katie Loken and Sierra Stellern both had ten, as East is now 10-1 overall and 1-0 in the East Conference.  Central falls to 8-2 and 0-1.
Other scores:
#5  Gillette boys  56  #3 Cheyenne South  53
#3T Gillette girls  73  Cheyenne South  36