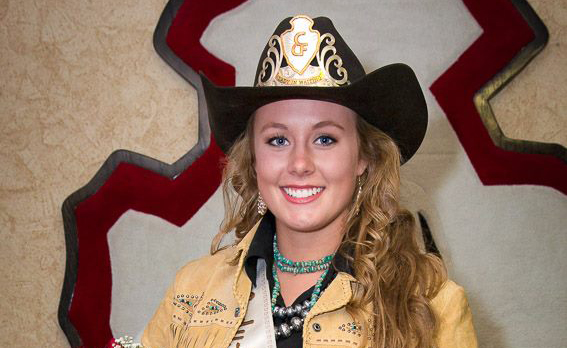 CFD 8-22-17
Halley Jankovsky has been named 2018 Lady-In-Waiting after a selection process including submitting a written application, an accomplishment book, a horsemanship skills demonstration and an interview.
Halley, the daughter of Matt Jankovsky and Kelley Martin, is a 2015 graduate of East High School. She currently attends The University of Wyoming, where she is majoring in Agricultural Education. Halley grew up actively participating in Cheyenne Frontier Days™ events; and has represented the Daddy of 'em All® as a Toe for six years, a Dandy for four years, and she currently serves on the Rodeo Committee as a leader for the Toe program.
"It is apparent the tradition runs deeper than the buckskins, Miss Frontier and Lady-in-Waiting are goodwill ambassadors for one the greatest rodeos in the world, but more than that, they are educators promoting Western Heritage. I am looking forward to the opportunity to promote Cheyenne Frontier Days™, the Western lifestyle and the sport of rodeo," Halley said.
Halley Jankovsky will work with Miss Frontier, Emily Breeden in 2018 to represent Cheyenne Frontier Days™ in both the United States and Canada.
Photo credit: Pat Lewis