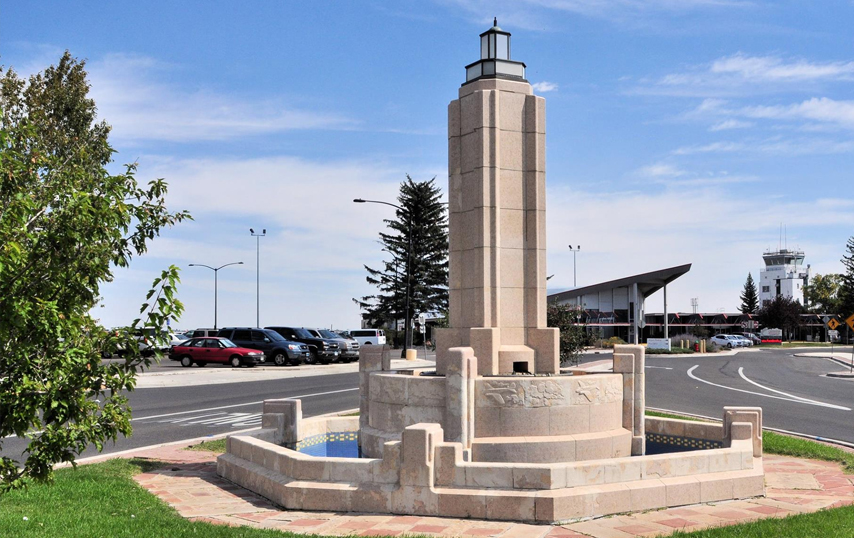 City 3-9-20
The Cheyenne Historic Preservation Board has been fundraising for nine years to restore the Historic Airport Fountain, located at the intersection of 8th Avenue and Warren Avenue. A thrilling and crucial step occurred Friday, February 14th, to solidify the efforts by the Board and get them much closer to the finish line – the four replacement terra cotta tile pieces arrived. The Board needed to order four replacement pieces because four pieces are missing from the Fountain; they are the buttress caps supporting the upper bowl.
Gladding McBean, a ceramics company located in Lincoln, California, has worked with the Board to recreate the necessary tile pieces that will be installed when the Fountain undergoes restoration in the future. The first step was removing an original terra cotta tile to be sent in to Gladding McBean and be used to create the mold for the new pieces; it was also used to help the company match the very unique glaze color and stippling. Over a period of several months, Gladding McBean worked to create a glaze that would match the existing glaze, sending tile samples for Board and staff approval. Once the Board approved a glaze, Gladding McBean could then move into production of recreating the actual pieces that were needed. These tiles pieces arrived Friday and are being stored at a Parks facility until they are ready for installation at the Fountain.
The first phase of the restoration work included waterproofing both the lower and upper bowls of the Fountain and upgrading the electrical and plumbing to meet current standards; this phase of the work is estimated to be completed later this summer. After this phase of the work is complete, the Fountain will be able to run on a limited basis only. The damaged terra cotta could be more damaged if the water runs too much before being restored. The Preservation Board needs to continue fundraising to support restoration efforts of the terra cotta itself.
This is one of several phases related to the restoration project. Future phases are unfunded, and the Historic Preservation Board is actively raising funds to expedite restoration efforts. Donations can be made to the Historic Preservation Board c/o the Cheyenne Planning & Development Department, Stephanie Lowe.
The Historic Airport Fountain project was supported in part by a grant from the Wyoming Cultural Trust Fund, a program of the Department of State Parks and Cultural Resources. It was also funded in part by a grant from the Wyoming State Historic Preservation Office and the Cheyenne Historic Preservation Board fundraising efforts and private donations.
Photos of the Airport Fountain are attached.
For more information about Gladding McBeam, please visit their website: https://www.gladdingmcbean.com/.
For more information about the Cheyenne Historic Preservation Board, please visit the City's website at www.cheyennecity.org/index.aspx?nid=216 or on Facebook.