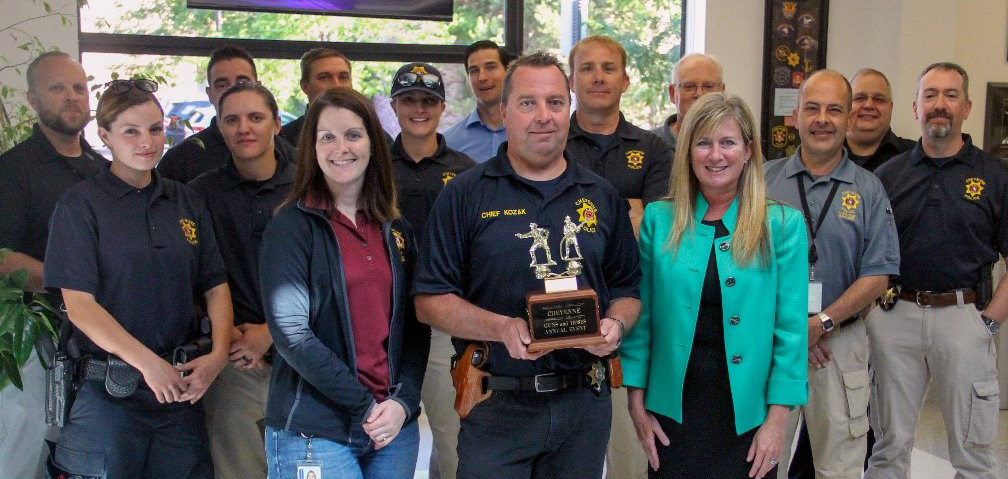 City 8-20-19
The results are in for the 2019 Battle of the Badges – a weeklong blood drive competition between the Cheyenne Police Department (CPD), Cheyenne Fire Rescue (CFR), Laramie County Sheriff's Department, and local Emergency Medical Services (EMS) personnel.
"Our first responders know as well as anyone that in the blink of an eye, the need for a blood transfusion can be great with lives on the line," said Cheyenne Mayor Marian Orr. "If you aren't a donor, please consider becoming one. And thank you to all those who participated in the Battle of the Badges!"
With 55 individual blood donations from community members on their behalf, CPD claimed bragging rights for the year. CFR accounted for 19 individual donors, Laramie County Sheriff's Department with 13, and EMS with 10.
As winners, CPD was awarded the Battle of the Badges trophy on Monday morning at the Public Safety Center (415 W. 18th. St.). As part of this year's competition, CPD upped the ante with a wager of their own: if CPD were to win, their administrative staff would work a full shift for a CPD unit picked from a random drawing. With Mayor Orr in attendance to draw a winner, a CPD Detective unit was picked.
Although CPD took home top honors this year, Cheyenne's group of first responders beat Casper's first responders with 97 total donors compared to 80 from The Oil City.
Battle of the Badges is a community-wide effort in conjunction with Vitalant Blood Services in Cheyenne.