Cheyenne Police Unveil DUI Command Vehicle [PHOTOS]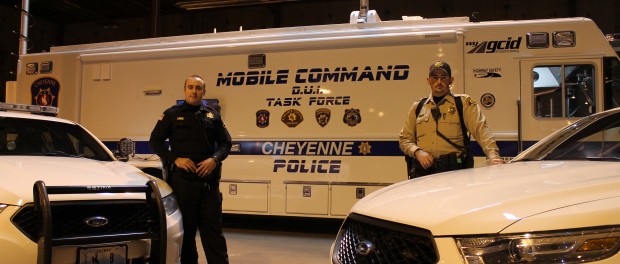 By Kari Eakins – 19 Nov '14
Local law enforcement has a new tool to combat impaired driving. A DUI Task Force command vehicle was introduced to the public on Friday.
Click to advance slideshow.
"We take this stuff serious," Cheyenne Police Chief Brian Kozak told KFBC. "We want to make sure our cases are put together thoroughly, that we're prosecuting people for DUI and really that people know, your chances of getting caught are pretty high and you just don't want to risk it."
During Regional DUI Task Force events, CPD spokesman Dan Long says the vehicle will act as a command post and be used by officers making DUI arrests, "This allows the officers to take someone they've arrested for DUI and actually process them through the arrest right there at the van, so they can do it more quickly, more efficiently, and then get back out on the street and look for other people that are drinking and driving."
Following today's event, Kozak reports that the command vehicle is being put right to work this weekend in Cheyenne, "Friday night it's going to be in the south part of town, then Saturday night it's going to be out in a more central location. It's going to be out almost every weekend and we're going to use it a lot."
The $500,000 van was purchased through a Highway Safety grant and will occasionally be lent out to other Wyoming communities for DUI enforcement. The Regional DUI Task Force is made up of the Cheyenne Police Department, Wyoming Highway Patrol, State Parks, and the Laramie County Sheriff's Department.