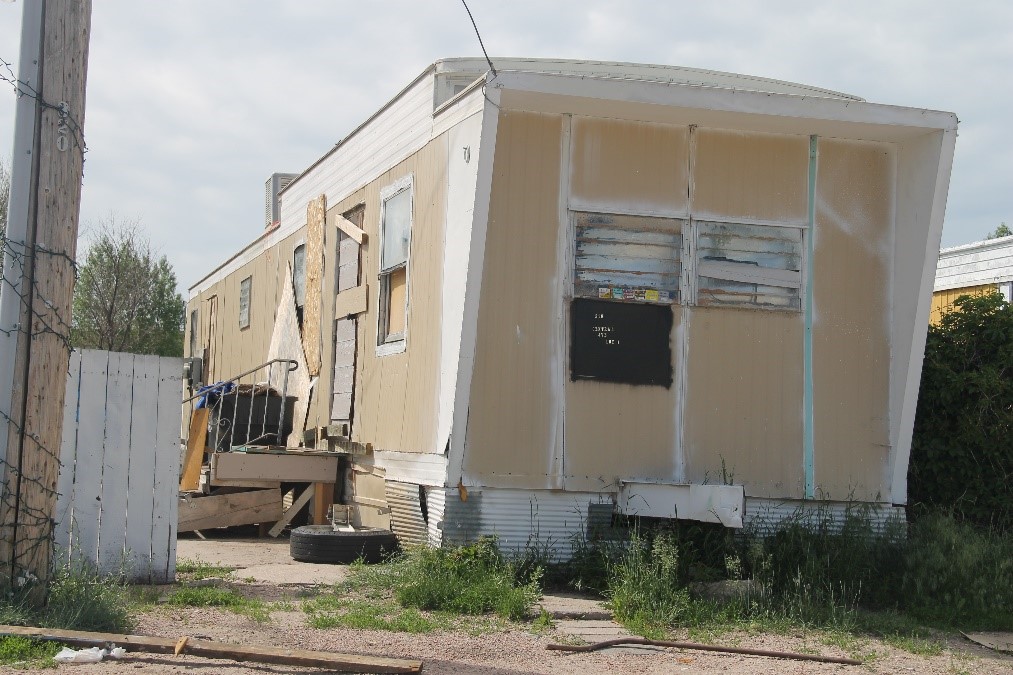 City 6-27-19
The City of Cheyenne has initiated enforcement action against the property owner, Robert Wink of H. Rose LLC, regarding unlawful operation of a manufactured trailer park (Case No. ZV-1900016). City Ordinance allows nonconforming manufactured trailer parks to continue operation, provided that the park does not constitute a hazard to health and is not a public nuisance (UDC 5.8.2.f). The City has been working with Mr. Wink and his representatives for over a year and limited progress has been made.
Recent inspections of the property show that numerous manufactured homes are in disrepair and are not being maintained in accordance with the 2018 International Property Maintenance Code (IPMC). This constitutes a hazard to public health and a public nuisance. The City has given the property owner 30 days to remedy the health and nuisance violations on site.
Significant issues such as leaking roofs, missing/broken windows, weak interior floorboards, and unsuitable plumbing and water configurations exist at numerous manufactured homes making them not only uninhabitable, but a public safety concern and a danger to the residents of the manufactured home park. The absence and condition of exterior skirting of manufactured homes exposes pipes during extreme weather to the elements, prevents proper insulation to retain a safe interior temperature, and provide refuge for rodent harborage and infestation. Exterior doors of vacant structures have also been documented as not securely locked or inoperable.
In 2018, the Cheyenne Police Department (CPD) responded to a total of 179 calls for service at 316 Central Avenue; resulting in an average of six incidents per trailer. In 2017, CPD responded to 114 calls for service and 155 calls for service in 2016.
As part of outreach to residents and manufactured home owners in the park, City staff has provided them with a resource sheet on community assistance programs for a variety of public services, including housing. The resource sheet was made possible by the Cheyenne Housing Authority.