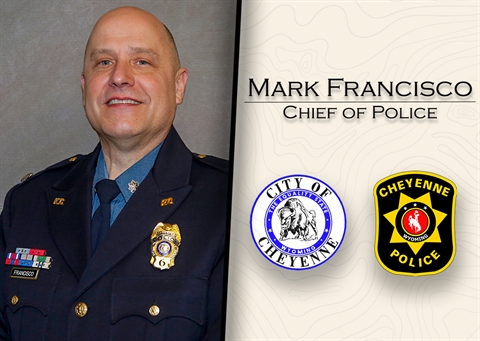 City 2-17-21
On Wednesday afternoon, City of Cheyenne Mayor Patrick Collins announced Mark Francisco as the City's new Chief of Police. Francisco comes to Cheyenne after 30 years of service with the Kansas City Police Department (KCPD).
"We're thrilled someone of Mark's caliber and professional experience will serve the people of Cheyenne as our next Police Chief. I look forward to him joining our team and introducing him to our community," stated Collins. "I extend my thanks to all those who applied. We were fortunate to have several outstanding candidates. I'm confident Mark will serve our community well."
"I am very honored and humbled to be chosen as the next Police Chief of the Cheyenne Police Department," said Francisco. "My wife and I are excited to become part of this outstanding community. I was very impressed by the members of the department and look forward to becoming a part of the team."
Francisco departs his current position of Deputy Chief of the Investigation Bureau for KCPD. In that role, Francisco managed and lead the Investigations Bureau comprised of 349 employees within four divisions: violent crimes, narcotics and vice, property crimes, and the law enforcement resource center. Prior to that, Francisco served as Deputy Chief of the Executive Services Bureau responsible for an annual budget of $256 million and 1,920 members. His tenure with KCPD also includes four years as a Major, 15 years as a Captain, and 10 years serving as a Sergeant.
Francisco served as a first Lieutenant in the United States Army Reserves from 1987 to 1997 and earned a bachelor's degree in Criminal Justice Administration from Central Missouri State University in 1987. He holds additional training from the Senior Management Institute for Police (SMIP) and the Police Executive Leadership Institute (PELI).
Francisco, and two other finalists, were onsite for in-person interviews February 9th and 10th. Francisco will begin his new role as Cheyenne's Chief of Police no later than April 1st