Cowboys upset in season opener to North Dakota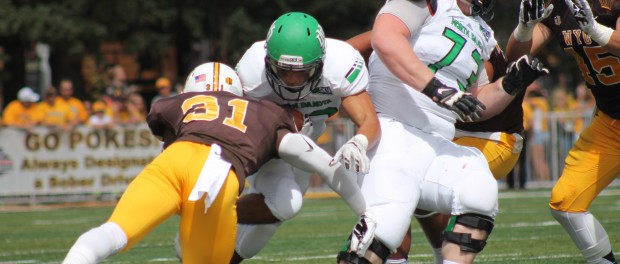 LARAMIE, (AP) KFBC — It wasn't the ideal start to the season for Coach Bohl and the Pokes, as they fell to FCS North Dakota.
John Santiago ran for 148 yards and two touchdowns to lead North Dakota to a 24-13 victory over the Cowboys in the season opener for both teams on Saturday.
It was North Dakota's first win over an FBS opponent in eight tries.
Santiago ran for a 52-yard touchdown and bullied in from the 1 for a score, and finished with 148 yards rushing on 24 carries. Keaton Studsrud was 13 of 23 for 153 yards passing, and added a 44-yard touchdown run to help North Dakota build a 21-0 lead with 13:25 to play.
Starting in his first game as a Poke,
Cameron Coffman completed 19 of 37 passes for 270 yards with two touchdowns. He threw a 92-yard touchdown pass to Tanner Gentry, the second-longest in school history.
The Cowboys offense took only four snaps in North Dakota territory through the first three quarters.
The Cowboys look to bounce back this Saturday, as they take on Eastern Michigan. Coverage on KFBC begins at Noon with the Tailgate Show, kick-off is at 2.