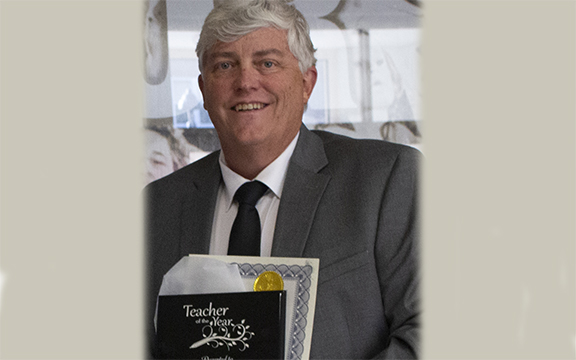 LCSD1 8-18-20
East High band director Dan Holroyd was recently named Laramie County School District 1's 2020 Teacher of the Year. He was presented with the award during the LCSD1 Board of Trustees meeting on Monday, Aug. 18.
A 34-year education veteran, Holroyd has taught music for 29 years at East High. Holroyd presides over all band classes for ninth- through 12th-grade students, including concert band, jazz band, freshman/sophomore band, marching band, percussion band and pep-band.
Under his direction, East High's band has consistently received superior ratings at the Wyoming State Marching Band Festival, Concert Band Festivals and Jazz Band Festivals. Additionally, the East High band has maintained high enrollment of more than 100 members.
Holroyd studied all aspects of teaching music and earned a bachelor's degree in music education in 1987 at the University of Wyoming.
An adjunct Laramie County Community College faculty member from 1995–1996, Holroyd directed the college's Jazz Ensemble.
Additionally, Holroyd holds a master's degree in education, which he earned in 2000 at Lesley University in Cambridge, Massachusetts.
Holroyd is a member of the Wyoming Music Educators Association and the National Association for Music Education. He was also a staff member of the Wyoming All-State Marching Band.
Holroyd said it is truly a pleasure to accept this award and he believes it wouldn't have been possible to achieve it without the help of his colleagues and the students he has instructed each day.
"My favorite part of the job is watching the students grow over the four years that I have them in class," Holroyd said. "As students graduate and move on with their lives, it is very gratifying to know they leave East High with a life-long skill of making music."
Holroyd said he considers himself fortunate to work for what he believes is one of the most supportive school districts within the state and the region. He believes the accomplishments of LCSD1's teachers wouldn't be possible without the support of LCSD1 administrators, the Board of Trustees, the parents, the students and community members.
"I'm very proud to be a part of such a great educational community," Holroyd said. "In looking at the past recipients of this award, I find it encouraging to be included with such a fine list of educators."
East High Principal Sam Mirich said, "Dan is a dedicated professional educator who truly cares about his students and the school. He makes every effort to help students reach their full potential and succeed. Dan has built a premier band program through hard work and unparalleled commitment to the East High community."
Holroyd's name has been submitted to be considered for the Wyoming Teacher of the Year award.