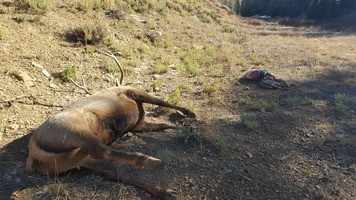 WGFD 10-31-17
Wyoming Game and Fish Department Cokeville Game Warden Neil Hymas is seeking information on yet another bull elk that was shot and wasted; this time in Elk Hunt Area 104. The number of elk confirmed shot and left to waste in the region now totals eleven. Many of the Department's poaching cases are solved with the public's assistance and they appreciate that assistance a great deal.
A cow elk and a branched antler bull elk were shot near the main Big Park Road at Grindstone Creek northeast of Cokeville on the evening of Wednesday, October 25, one day after the antlered elk season closed in Elk Hunt Area 104. Elk harvest has been slow lately and someone most likely knows of a person or persons coming home late on October 25 with a cow elk from the Cokeville area. Also, anyone who was in this area on October 25 is asked to consider anything they saw or heard that might possibly be tied to this poaching incident.
"A witness described two male suspects in a white pickup truck, possibly a Ford, with a four-wheeler in the back, loading the cow elk into the truck after dark at around 8:00 pm on Wednesday night," Hymas said." At least one of the suspects appeared to be in his late 50's. The bull elk was laying in plain sight within 10 yards of the cow elk gut pile and was not salvaged or reported. It was apparent that the bull was intentionally abandoned and allowed to go to waste."
Anyone with information on this or any wildlife violation may call the Stop Poaching Hotline at 1-877-WGFD-TIP (1-877-943-3847). Tips may be reported online at wgfd.wyo.gov, directly to game warden Neil Hymas at 307-279-3466, or by calling the Green River Game and Fish Office at-1-307-875-3223. Poaching information may also be texted; text keyword WGFD a message to TIP411 (847-411).
A cash reward is provided by the Wyoming Wildlife Protectors Association (WWPA) to individuals who provide information leading to an arrest and conviction of poachers. Informants are not required to reveal their name, testify in court or sign a deposition, allowing for complete anonymity if requested. Reward amounts for tips leading to convictions ordinarily range from $100 up to $5,000. A certificate of appreciation is sent to each informant along with the cash reward. All reward payments come from court-ordered restitution paid by defendants directly to the WWPA or donations from individuals and non-governmental organizations.