Storms Bring Damaging Hail, Winds, And Tornados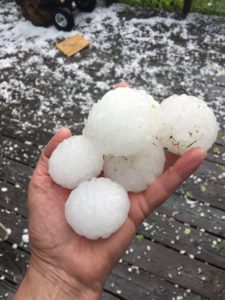 Some pictures taken from listeners yesterday following the storm that hit Laramie County.  Five tornados were reported touching down in the county, with damage being reported from tornados north of Cheyenne, and near Carpenter, which damaged about four to five homes, downed power lines, and ruptured a gas line in the area.  There were no reports of injuries.
Large hail hits parts of the city.  The western and northwestern parts of Cheyenne receiving most of the damage.  The hail was baseball size in some areas, causing damage to homes and vehicles.