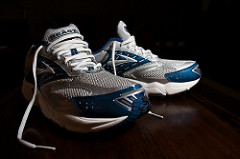 By Staff
BOULDER, Colo.– Several young members of the University of Wyoming men's and women's cross country teams had solid showings at Saturday's Rocky Mountain Shootout at the Buffalo Ranch. Sophomore Lauren Hamilton paced the Cowgirls to a second-place team finish behind No. 2 Colorado, while redshirt freshman Jesse Gray led a group of three Cowboys in the men's race.
"Today's race was really about seeing which of our young kids could step up for the team," UW assistant coach Amanda Clower said. "The Cowgirls did an awesome job of working together as a group. Lauren led from the start, but it was great to see a freshman in Bella right behind her. It was good to see that confidence from her. All our young kids really fought for spots today."
Hamilton finished 12th overall on the 5.8-kilometer course in a time of 22:07. Freshman Bella Pape was four seconds behind her for 15th place, while junior Cassidy Meade was 20th in 22:28 and sophomore Quinn DeStefano was 22nd in 22:29. Freshman Kiah Leonard was UW's last scorer in 22:38 for 25th. Junior Catherina Cloetta finished in 29th place at 22:51, while three freshmen followed her. Regan VanDePol was 33rd in 22:56, Solana Quistorff was 47th in 23:29 and Emily Person was 56th in 24:03.
Gray was UW's top Cowboy in the men's 8-kilometer race with a time of 27:05 for 43rd overall. Freshman Michael Downey followed in 27:07 for 46th and junior Michael Rotellini was 74th at 27:57.