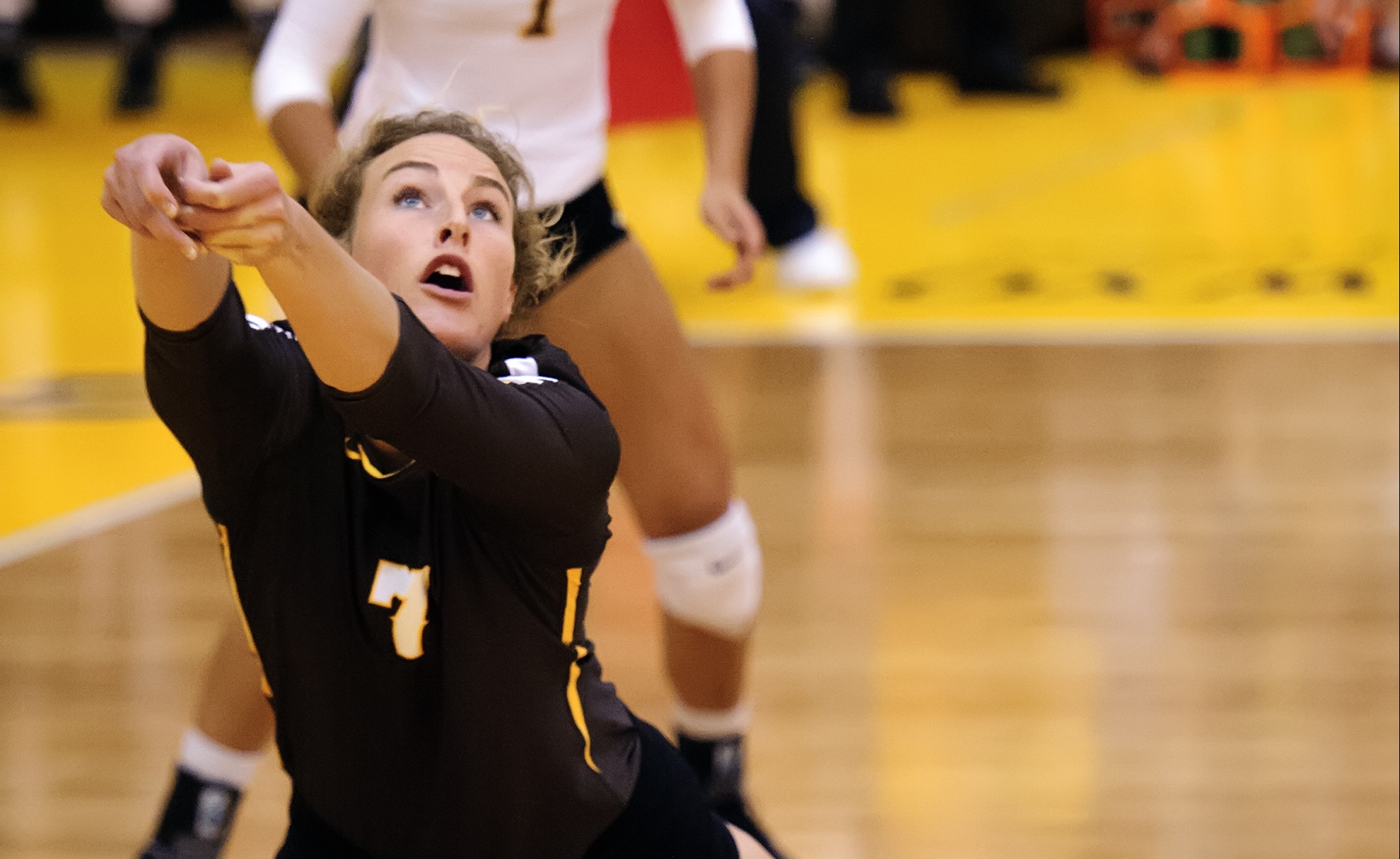 By Staff

RENO, Nev. – Junior's Laura Beach and Kayla Slofkiss each swatted 11 kills as the 25th ranked Cowgirl volleyball team fell to the Nevada Wolf Pack in five sets (25-21, 25-27, 21-25, 27-25, 12-15) on Saturday afternoon. Although it snapped Wyoming's seven-match win streak, today's match was the 12th time this season Slofkiss had double-digit kills and also her eighth double-double.
Slofkiss had a team-leading 16 digs for UW (13-3, 3-1 MW), in addition to her 11 kills. Senior's Bridget Shanahan and Kayla Henderson each had nine kills for the Cowgirls on the afternoon. Freshman Reed Copeland tied a career-high with 12 total blocks, to go along with six kills, as Emily Hines chipped in five kills and Mattison DeGarmo had three against the Wolf Pack. Beach also had herself a solid afternoon with seven blocks, while Henderson had six.
Courtney Chacon had her fifth double-double of the season and led UW with 25 assists and 11 digs. It was her fourth match this year with at least 25 assists. Freshman Cori Aafedt had 17 assists, as well as three digs. Allison Waldvogel had 14 digs and 4 assists for UW, and Lily Austin was the fourth Cowgirl with double-digit digs with ten.
Wyoming was able to jump out to an 8-4 advantage early in the first set behind a number of Cowgirl kills. UW never gave up its lead as Beach, Slofkiss, Copeland, Henderson, Hines and DeGarmo all recorded at least one kill in set one. The second set was nothing short of a battle. UW trailed by six, 17-23 before tying the set at 24. Nevada eventually took the second frame before intermission. Waldvogel had six digs in the third set, as Shanahan had three of her kills. Shanahan also led UW with four kills in the fourth to help carry the match to the fifth and final frame. Slofkiss had three kills while Nevada hit .500 (12-1-22) in the final set to steal the victory.
The Cowgirls will carry a six-match home win streak into Thursday night's showdown with Air Force. First serve is scheduled for 6:30 p.m. MT in the UniWyo Sports Complex. UW has won 11 straight at home against the Falcons and 21 of the last 22 matches overall.