Cowboys Down Southern with Defense, 57-39 [PHOTOS]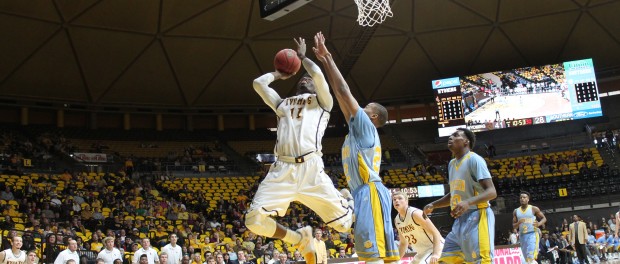 By Kari Eakins – 20 Dec '14
The Wyoming Cowboys held Southern to just 39 points on Saturday to stay undefeated on their home court. The 57-39 win moves UW to 10-2 on the season.
Click to advance slideshow.
With Riley Grabau and Al Herndon out of the lineup with injuries, Josh Adams led the Pokes with 16 points and 3 assists, while Derek Cooke, Jr. put up 14 points and grabbed 8 rebounds.  Adams says that there's enough trust within the team, that they can sustain an injury or two.
Wyoming got off to a slow start, tied with Southern at 13 halfway through the first half.  But the Cowboys would go on a 12-2 run, opeing up a ten point lead, and never looked back, cruising in the second half.
In a game where the Cowboys weren't great on the offensive end (just 44.2% shooting from the field), the Wyoming defense held the Jaguars to just 33% shooting for the game.  Adams says that playing defense the way they do is a tough habit to break, and that's a good habit to have.
With the distraction of finals all last week, then the two injuries, Wyoming head coach Larry Shyatt said he was very proud of the defensive energy the Cowboys played with, despite the possible distractions.
The Cowboys will wrap up non-conference play Tuesday night when they finish up a home-and-home series with Montana State.  Tip off in Bozeman is set for 7 pm.