Guns Stolen from Marv's Other Place Recovered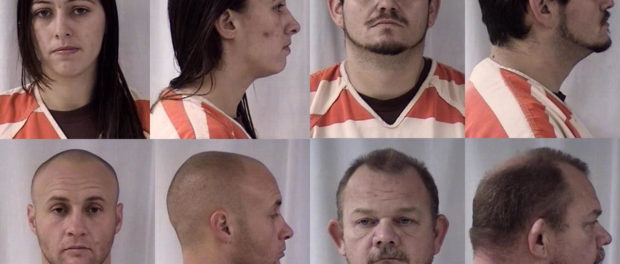 CPD  1-6-2016
The Cheyenne Police Department has recovered multiple guns that were stolen from Marv's Other Place on November 16, 2016. David Labriola, 32, of Cheyenne, was arrested for the burglary which resulted in guns being stolen from the business.
The Cheyenne Police Department has also arrested Damien Jerome, 30, of Cheyenne; Steven King, 43, of Cheyenne; and Amber Owen, 23, of Cheyenne, in connection with the stolen guns. Jerome, King and Owen are being investigated for possession of stolen property and Owen is also being investigated as an accessory after the fact. All three of these individuals were in possession of guns taken during the burglary.
CPD detectives have served over 20 search warrants in relation to this case and linked Labriola to eight burglaries taking place in the Fall of 2016. The ATF is offering a reward of up to $5,000 and Silent Witness is offering a reward of up to $1,000 for information that results in the recovery of the remaining stolen firearms.
This case remains under investigation by the Cheyenne Police Department.