City Launches Website With New Look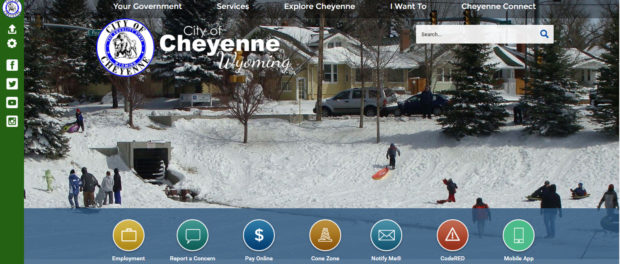 City of Cheyenne 1-6-16
The City of Cheyenne and the Board of Public Utilities will launch a more user-friendly redesigned website on Friday, January 6, 2017.Both websites can be found at www.cheyennecity.org or www.cheyennebopu.org.
"Like the current website, the new website will be service driven and will be a responsive design, which will adapt to all devices," said Kylie Soden, Deputy City Clerk, who serves as the City's webmaster. "Our goal is to improve the user experience and provide easier access to helpful tools and information."
Amongst all the features the site contains:
• The "Report A Concern" module where residents can report to the City such things as a pothole on their street or a water-use violation among other concerns.
• The "Bids and Proposal" module where residents can receive text messages or e-mails concerning bidding or contract opportunities.
• The "Cone Zone" module which list City streets construction projects, and is interactive.
• Ways to explore Cheyenne
• Integrated social media buttons like Facebook and Twitter.
• Alert notifications for things like water main leaks or street closures.
Also, the City has a mobile app which can be downloaded free from the Apple Store or the Goggle Play Store. The City hopes the public finds the website fresh, modern and easy to access all the information for their needs.