National Guard Unit Deploys To Middle East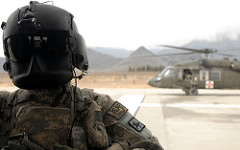 AP 10-19.2015
Eighteen soldiers with the Wyoming Army National Guard's most deployed unit since 2001 is headed to the Middle East.
The Guard's C Company, 5th Battalion, 159th Aviation Regiment, left this weekend for a monthlong training mission in Texas before heading off to the Middle East.
The unit based in Cheyenne operates UH-60 Black Hawk helicopters and will provide medical evacuation support for U.S. and coalition troops.
The Wyoming Tribune Eagle reports that Gov. Matt Mead and state Adjutant General Maj. Gen. Luke Reiner attended a ceremony on Friday marking its deployment.
This will be the fifth time the unit has deployed personnel and aircraft in the past 14 years.