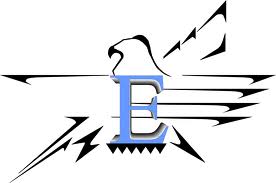 by Keith Kelley–18 Sep '15
The Sheridan Broncs had rolled past their first three opponents.  They faced their first true test of the season, and the result was the same, as the number one Broncs beat up on the fourth-ranked Thunderbirds Friday night, 48-7.
Big plays doomed East from the beginning, as Sheridan quarterback Blake Godwin hit wide receiver Coy Steel on a 54 yard pass for the game's first score, as the Broncs went up 7-0.  Steel was at it again,  With the T-birds pinned back deep in their own territory, Steel would return a punt 36 yards for a TD, to put Sheridan up 14-0.  And then for the trifecta, Steel would catch another TD pass from Godwin, this one from 12 yards out, to put the Broncs up 21-0.
Sheridan wasn't done in the first half, but this time it was running back Evan Coon's turn.  Coon scored a pair of touchdowns before halftime, a three-yard run, then a 42-yard run before the half, as Sheridan would lead East, 34-0 at the break.  Coon would another score, this time from 20 yards out, as the Broncs led 41-0 at the end of three quarters.
Sheridan would add one more score in the fourth.  On fourt-and-nine from their own two-yard line, Godwin would connect with Dontae Crow for a 98-yard score, and the Broncs led 48-0.  Their would be a running clock the rest of the way.
East's lone score came after quarterback Baylor Hayes hit Noah James on a 53 yard pass play.  The next play, Erik Garnica-Cole scored on a one-yard TD run.
Hayes threw for 150 yards, while running back Ethan Ashworth rushed for 63 yards.  Sheridan's Godwin threw for 244 yards and three scores.  Coon ran for 128 yards and three TD's.  Steel caught three balls for 104 yards and a score.
Sheridan is now 4-0 on the season, while East fell to 2-2.
Other scores:
Rock Springs  51  Cheyenne Central  31–Indians fall to 1-3 on the year
Casper Kelly Walsh  36  Cheyenne South  8–Bison drop to 0-4