Cowgirls End Season Falling to Colorado College 1-0 in the MW Quarterfinal Match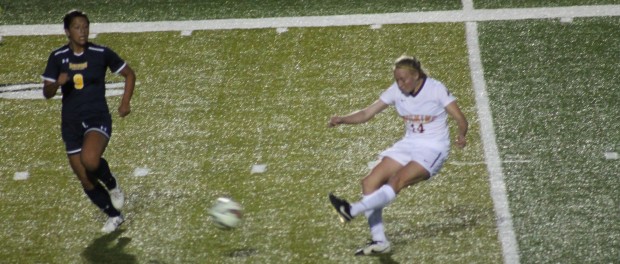 By Staff
SAN DIEGO, Calif. – The University of Wyoming Cowgirl soccer team ended its season falling to Colorado College 1-0 on Wednesday in the Mountain West quarterfinal match in San Diego, Calif. The Cowgirls ride away with a 10-6-4 overall mark on the season.
The only goal of the match was scored by the Tigers' Clara Richter in the 16th minute. Colorado College ultimately held on to the lead as the clock hit zeros.
Wyoming had trouble getting its offense started as they tallied only five shots during the match. UW totaled three corner kicks, having two of them come in the first stanza. The Cowgirls were led by sophomore Shaina Ashouri with two shots, both of which came on goal. Forwards Kaitlyn Lomsnes, Jessie Gentle and midfielder Annika Clayton each had one shot in the contest. Lomsnes' and Clayton's shot were both on goal.
The Cowgirls end the season with a lot to celebrate. Wyoming broke its single-season shutout record, posting eight on the year. They have set the longest home winning streak in history with 10, continuing from the 2014 season. Also, they have matched the top spot for tied matches with four and tied for third in wins with 10 in a single-season. UW accomplished all of these feats without having any seniors on the squad.
Individually, the Cowgirls has also had a great year. Ashouri has made her mark among the single-season record books. She tied for the most points with 25. A Cowgirl has not reached 25 points in a single season since Tamika Wilson in 2007. Ashouri is second on the all-time shots list, accumulating 67 on the year which is the most shots for any player in one year since 2004. She is also tied second for game-winning goals, with 4. Ashouri posted seven assists which ties her for fifth and nine goals on the season, placing her in sixth place.
At this point in her career, freshman goalkeeper Cassidy Entsminger has notched the best goals against average by any Cowgirl with a .66 goals against average. She saved 41 shots on the year and accumulated 1093 minutes of playing time. Sophomore goalkeeper Georgia Rowntree booked a 1.00 goals against average this year which tied her for third in a single season as a Cowgirl. She posted 33 saves and recorded 810 minutes of playing time.
Lomsnes ended her sophomore campaign with 12 career goals, which puts her 10th on the all-time career list. Sophomore defender Alisha Bass has also made her mark in the single-season record books by recording 1843 minutes, placing her eighth.