Three County Long Pursuit on I-80 Ends with Kentucky Man's Arrest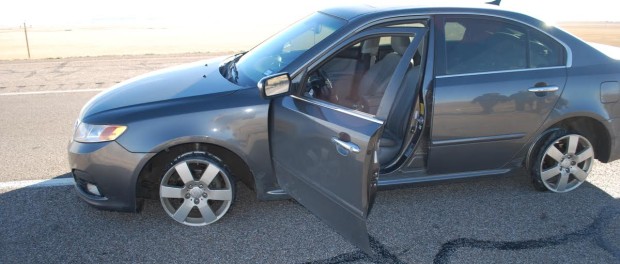 By Staff
A pursuit that spanned three counties and 185 miles on Interstate 80 has ended safely today (Nov. 9th) west of Laramie, Wyoming.
Around 12:21 p.m. on November 9th, Wyoming law enforcement received information that a stolen 2009 Kia Optima was traveling east on I-80 near Rock Springs, Wyoming. At 12:36 p.m., a Sweetwater County Deputy Sheriff initially spotted the stolen car near mile post 120 on I-80 approximately 11 miles east of Rock Springs. Upon the arrival of backup, an initial traffic stop was initiated, but the car never stopped and accelerated up to 130 mph.
The pursuit of the stolen Kia continued east into Carbon County Wyoming on I-80. After exiting and reentering the interstate multiple times, stop stick tire deflating devices were utilized at mile posts 173, 189 and 201.
Near mile post 222, the stolen car took a median crossover and began traveling east in the westbound lanes of I-80 until it exited at mile post 228 at the Fort Steele rest area. Once off the interstate, the stolen Kia briefly continued east on a gravel road before crashing through the right-of-way fence back onto Interstate 80 east in the eastbound lanes.
Stop sticks were deployed once again at mile posts 236, 290 and 297. By mile post 303, all four tires were disabled on the stolen Kia. The pursuit ended at mile post 305, approximately five miles west of Laramie, Wyoming.
Joshua C. Law, a 28 year old resident of Morehead, Kentucky, was taken into custody without incident. He has been transported to the Albany County Detention Center in Laramie by Troopers and booked for eluding and multiple warrants for identity theft and burglary. Charges in Carbon and Sweetwater Counties from the pursuit and vehicle theft are pending.
Agencies involved and assisting in the pursuit include Sweetwater, Carbon and Albany County Sheriff's Offices as well as the Rawlins, Sinclair and Laramie Police Departments. Troopers from Rock Springs, Rawlins, Elk Mountain, Laramie and Cheyenne all responded. No injuries were sustained in the 1 hour and 46 minute long pursuit.